Digital Transformation Strategy
Digital Transformation is the latest buzz, and people just can't seem to get enough of it. But this digital transformation economy is here to stay. As businesses move online, a digital transformation strategy is your best bet to survive and get ahead of the competition.
An interesting study shows that 70% of digital transformation efforts and initiatives do not reach their goal. How is it possible?
The radical problem arises not while implementation, but even before that – during the initial phase of planning the digital transformation strategy roadmap.
If you fail to address this flaw, your digital transformation scope becomes limited to the ideas you have in your mind. With improper planning, you'll lack flexibility, which will bring your strategy to a standstill.
Digital Transformation Strategy: 3 key elements you need to consider
Digital Transformation is more than moving your infrastructure to the cloud and building a remote team. It is about reimagining the entire operational structure of your organization.
There are 3 key elements which play a crucial role in building a successful digital transformation strategy framework.
Rethinking organizational culture

The first element that digital transformation consultancies suggest is "Organizational Culture". A digital business transformation strategy will challenge your conventional processes and legacy systems.
You should bring synergy in the organization towards achieving the digital transformation goal. Before beginning the planning phase, it would help if you drive a culture of change, learning, and innovation.
It entails that you welcome the ideas from your employees on how they can adapt to the change. While you want to transform your culture, it is a gradual process, which will happen when employees lead themselves to make the digital transformation strategy work.
Focusing on customer experience

The second element is "customer experience". Your digital transformation efforts must focus on serving your customers first and then your organization.
In the digital age, user experience and customer engagement are two things that drive the most sales. Your primary focus should be to streamline your digital transformation strategy framework such that it offers the maximum value to your customers.
More than anything, you need to provide a connected customer experience by exploring the digital transformation scope in both online and offline delivery channels.
Integrating technology

The third and the last key element of your digital transformation strategy should be "technology". Without the proper tech, you will not become a part of the digital transformation economy.
It is important to identify and integrate the right technology. Digital Transformation experts suggest that you shouldn't keep adding innovative tech just because you can. It is more of a burden than an efficient implementation.
What that means is that if you need a web application for your digital strategy and transformation, there's no need to add RPA if it isn't going to maximize your efficiency and value delivery.
Digital Transformation Strategy Steps: How it works
When you clearly understand the crucial elements of a digital transformation strategy framework, you are ready for its implementation. These 3 key elements provide a structure that will support your entire digital transformation efforts.
If you want a 7 step framework for ENTERPRISE-WIDE Digital Transformation, Read this blog.
Here's how you can successfully become digital transformation experts in your industry and drive it by storm:-
Strategize and determine objectives

The first step is to analyze your existing processes and develop a digital transformation strategy roadmap to achieve your goals. Cut down your goals into objectives that each digital transformation initiative will aim to fulfil.
It is important to identify the steps you would be taking to optimize each process, transform your business model, and align your organization with your digital transformation efforts.
Experiment with initiatives

You cannot simply bring a change and make it firm without understanding whether it is efficient and welcomed by the stakeholders or not. It would help if you start by experimenting in a key area, let's say cloud computing, and then gradually move on.
Experimentation will drive creativity and innovation. It would give you the time to educate your team on the cultural change that comes with a digital transformation strategy.
Bring in digital transformation experts

Let's face it – digital transformation is not a single organization's cup of tea. You need to identify the tech roles and requirements for every digital transformation initiative.
It means that you'd have to hire cloud specialists, system integrators, data analysts, and UX designers. Every tech expert will play a different role, and you must clearly identify what outcome you aim to achieve by hiring them.
If you are implementing Machine Learning for digital transformation but don't know who should be on the team, then read this article.
Implement the strategy

The next step is to bring and enterprise-wide digital transformation that is visible to all the stakeholders in the organization. Implementation is hard because it's a case of hit and trial for your organization as you have never done it before.
However, if you did the right experiments, you'll have no problem in implementing your strategy. You can install the right systems, modify your existing IT infrastructure and make digital changes that are flexible and provide more scope of innovation.
Empower and adapt

Probably the most important of digital transformation strategy steps is to empower your employees through digital transformation initiatives. With the cultural change, you must drive people to collaborate better and embrace the change in a positive manner.
You must help the stakeholders adapt to the changes in your operational infrastructure. There should be constant communication between the team. You also have to ensure that you regularly upgrade the tools and provide the proper training for adapting to them.
Don't let your digital transformation efforts go to waste
You should avoid becoming a complacent organization that doesn't move further ahead from the land. You need to continue experimenting with digital transformation initiatives and bring change after change until your business looks forward to embracing the next transition.
Having a proper strategy and identify how the 3 key elements are the beginning of a successful digital transformation strategy. Digital transformation experts at BoTree Technologies assist you in building an organizational structure that supports the implementation of digital strategy and transformation.
All in all – do not let your digital transformation efforts go to waste. A good strategy but poor implementation can put you in the back seat. If you want the competitive advantage, the right strategy and implementation must balance to achieve efficiency for your organization.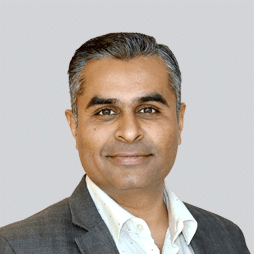 Shardul Bhatt
Shardul strongly believes that the potential to surpass expectations is inherent to each individual. He is committed to helping each and every member at BoTree achieve their dreams and get the most out of their lives. He has a strong technical background and has been in the industry since 2002. He is building BoTree since 2012. He loves to read, exchange ideas and travel.
Choose Your Language
Subscribe to Our Newsletter