The Future of Artificial Intelligence Services for Business
The business world will be mostly run by technology in the coming decades. Not any technology – but artificial intelligence. Talked about in tech circles, artificial intelligence services are now becoming commonplace for companies.
Chatbots, Robotics, AI systems for predictive analysis, etc. have gained a fair share in the business world. Today, AI is not just limited to handling repetitive tasks. It is increasingly becoming an indispensable tool to support human activities and streamline the decision-making process. Reach out to learn more about the artificial intelligence development company in New York for the various ways to improve or build the quality of projects and across your company.
But how does artificial intelligence and robotics do that? Based on machine learning, AI is a self-learning solution that adapts from the environment. It means that your business can understand your customers in real-time by implementing AI in the system.
Many believe that AI is better off as a customer service representative. In reality, it is going to act as a catalyst in the digital transformation of future businesses.
"But how will it help grow my business in the future?" You may find yourself asking this question. Here's how.
[Also Read: 3 Ways AI Solutions help in Digital Transformation]
Future Talks: The Growing Impact of AI Services on Business
Today, countless businesses have switched to smartphones, which billions of people use every day. But increasingly, this is getting short of proper service delivery. Delayed customer service, manual analysis of data, keeping up with the competitors, etc. are a few variables that make businesses suffer.
Technology has created artificial intelligence opportunities to fix these problems and better serve customers. AI today is making its way into healthcare (appointment scheduling), hospitality (customer service), fintech (analysis), e-commerce (transactions), and several major industries.
Artificial intelligence systems will feverishly impact the growth of any business. Customers want quick service,and AI can handle millions of service requests simultaneously. It can accurately predict patterns and analyze data better than humans.
3 Ways AI Can Help Businesses Improve Customer Relations
1. Getting Things Done, Better
Efficiency is at the core of every business process. By implementing artificial intelligence for commonplace and administrative tasks, employee efficiency will improve drastically. Devices like Alexa will soon make their way to the workplace to support human personnel by providing the right information at the right time.
Artificial intelligence services are also getting popular because companies understand that they are supporting tools for efficiency. When regular tasks are delegated to AI solutions, the resultant would be more innovation in the organization.
2. Real-time requirement fulfillment
Vendor management is a challenging task. Regularly checking for inventory, making an order for supplies, and sending invoices can be time-consuming. With integrated artificial intelligence systems, the algorithm is such that it can automatically scan the data. Based on this, an inventory schedule is generated, AI checks the inventory itself, places the order, and processes the invoices. Imagine the number of hours it would save for operations personnel. It would help them to improve their learning curve by enabling them to focus on enhancing the processes.
3. Customer delight, delivered
One of the significant artificial intelligence opportunities is providing better customer service. AI-enabled chatbots serve customers in real-time, gather data, and make decisions by recognizing patterns from the conversation. AI representatives are available 24×7 and provide shorter response times, which ultimately delights their customers.
Apart from these 3, the applications of artificial intelligence are also found in Data security, process automation, and several other tasks. Artificial Intelligence is the future because it makes processes easy and business better. People want simple things, and artificial intelligence can handle the difficult ones for them.
[Also Read: Grow Your Healthcare Business Using Artificial Intelligence]
Explore AI Services and Boost Your Business
Artificial Intelligence is going to be a necessity for businesses in the coming decade. It depends on where each business decides to implement it. Not all departments need AI, but those that do must have it as soon as possible. If you're looking to integrate artificial intelligence with your business, we can build it.
---
At BoTree Technologies, we build enterprise applications with our team of 15+ AI experts..
We also specialize in Python, RPA, AI, Django, JavaScript and ReactJS.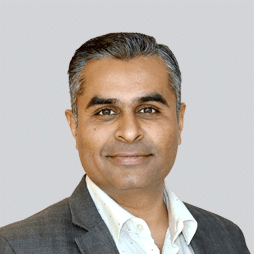 Shardul Bhatt
Shardul strongly believes that the potential to surpass expectations is inherent to each individual. He is committed to helping each and every member at BoTree achieve their dreams and get the most out of their lives. He has a strong technical background and has been in the industry since 2002. He is building BoTree since 2012. He loves to read, exchange ideas and travel.
Choose Your Language
Subscribe to Our Newsletter