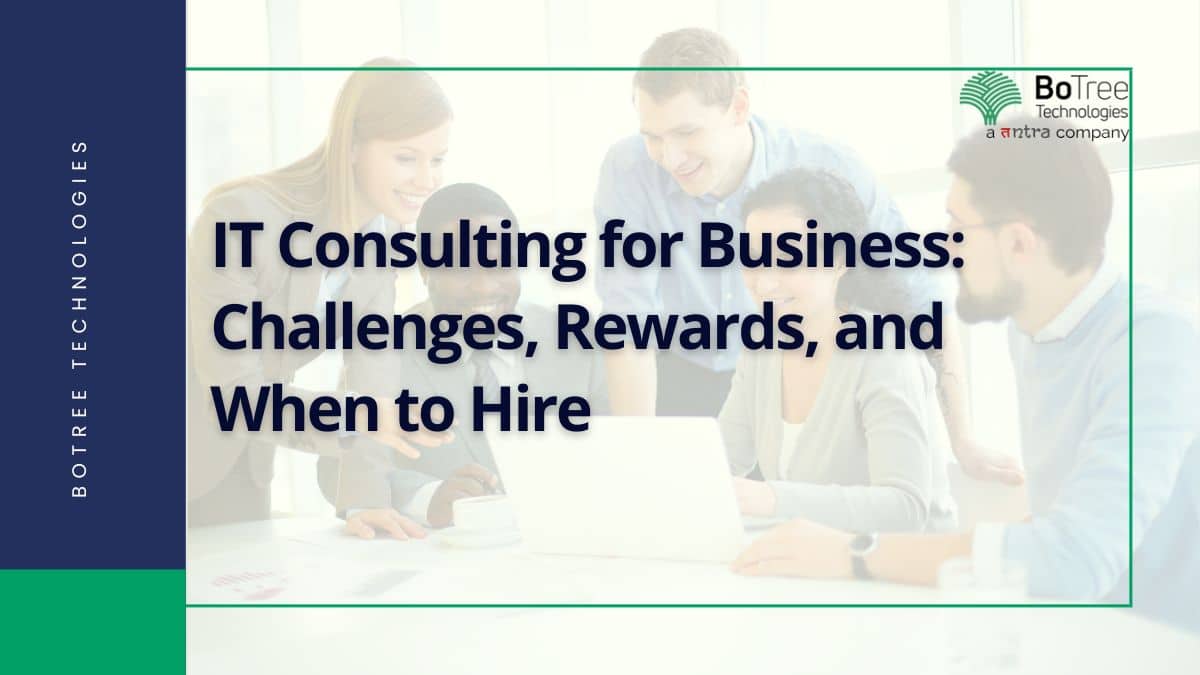 IT Consulting for Business: Challenges, Rewards, and When to Hire
IT consulting services act as a support system for the IT department to achieve business goals. Maintaining a dedicated, full-time IT team for process optimization and system maintenance can be expensive. IT consultants are a feasible choice for affordable and efficient IT and business process optimization.
Reports suggest that 66% of technology projects end in total or partial failure. One of the biggest reasons for failure is not defining the objectives clearly and missing asking the right questions. IT consulting firms bring in experts whose primary job is to ask the questions that drive the entire process of achieving the best outcomes.
Today, an IT consulting company comprises domain specialists. There are consultants for FinTech, Data, Cloud Computing, Digital Transformation, Process Optimization, and more. These IT specialists ensure that whatever process needs transformation, they can provide the tools and expertise for that.
Read more: Top 7 Technology Consulting Companies in The World
Let us look at some of the benefits of hiring a technology consulting firm.
The Rewards of Hiring an IT Consulting Company
IT consultancy services are in high demand. The size of the global software consulting market was $218.6 billion in 2020, which is expected to grow at a CAGR of 12% from 2021 to 2028.
As companies seek outside expertise and guidance to improve IT outcomes, the role of information technology consulting firms will increase in enterprise operations.
Let us look at some of the benefits of hiring professional IT consultants –
Access to IT Expertise:

Often, hiring an in-house team of IT specialists is expensive. Technology implementation requires experts who know what they are doing. IT consultants are affordable and effective. They have the right expertise that the company may not be able to find anywhere else.
Professional IT consulting services providers offer a team of specialists who have experience in different areas of technology. They can offer a holistic approach to IT consulting and assist with achieving IT objectives seamlessly.


Focus on Core Business Functions:

While IT is a core business function, it might be a challenge for non-IT professionals, managers, and executives. But outsourcing IT strategy and planning to consultants, these people can focus on core business functions. More often than not, technology implementations and research take up a lot of time.
Professionals in strategic consulting services take up the IT functions and enable managers to focus on their core areas of expertise – management, planning, and process optimization.


Identify Areas of Improvement:

Several enterprises suffer from this issue – they cannot identify the critical areas for improvement. IT consultants ask the right questions and identify the areas that can benefit from the process or solution optimization.
The team of IT specialists brings in several professionals who contribute with new ideas and solutions for improving the existing system. They are experts in process re-engineering as well and know what and how it needs to be done.


Time and Cost Savings:

Another reward of hiring an IT strategy consulting company is time and cost savings. Enterprises don't need to spend a lot of money on hiring a full-time employee with 401k, medical, insurance, and other benefits. Often, small to medium-sized businesses do not have enough budget to hire a full-time team of specialists to manage their IT operations.
Therefore, such enterprises can hire IT consultants for a specific objective and make the process affordable and seamless.


On-demand Scaling:

Companies can hire IT consulting service providers as and when they wish. They can call in experts when the project requirement is high and let them go when it's low/ On-demand scaling allows them to maintain the IT systems at regular intervals without incurring the fixed costs of hiring a team.
IT consulting firms offer on-demand specialists in IT strategy, digital transformation, process optimization, and more. Enterprises can combine and hire a team that provides all these services.
Challenges in IT Consulting Services
We know that high-quality IT services offer a wide range of benefits. However, there are certain challenges that come with IT consulting services.
Here are a couple of challenges of hiring IT consultants –
Work Culture Differences:

IT consultants work in a different culture. Their approach is to quickly identify problems, take massive action, and monitor the outcomes. However, a company may not work in this manner.
If the culture is that of freedom and laid-back approaches, IT consulting may be a challenging endeavor. Training can be time-consuming and expensive. Therefore, it is important to identify the working style differences and address them as soon as possible.


Tight Deadlines:

IT consulting activities focus on improving IT outcomes and business process optimization. However, consultants often work within tight deadlines. They have to achieve results within a limited timeframe.
Companies cannot spend a lot of money on IT consultants as they need to be on a budget. Therefore, IT consultants are under the constant pressure to meet deadlines or else they will be let go from the project.


Marketplace Unpredictability:

Market turbulence is always challenging for IT consultants. There is a rapid frenzy of investment, changing consumer behavior, and online initiatives that are making the market unpredictable. Therefore, consultants sometimes struggle to meet the dynamics of the market, which ultimately leads to losses for the enterprises.
When consultants do not adapt to the dynamic market changes, the enterprise has to suffer. Dealing with this turbulence can lead to multiple other challenges as well.
When to Hire IT Consultants – Use Cases
Today, companies are seeking IT consultants to help them achieve their IT objectives. Technology is rapidly changing. Therefore, expertise is crucial for the proper implementation of new advancements and technologies.
Enterprises hire IT consultants when they need an outside perspective on their existing IT processes. The in-house team often has biases regarding their ideas and working style. However, IT consultants remain unbiased and offer an objective perspective of the situation. They may find a solution that may have been overlooked by other team members.
Another time when enterprises hire IT consultants is when they need seasoned professionals but for a temporary period of time. A trusted software development company that offers professional IT consultants can deploy them on a project and then call them back once the work is done. This cannot be the case with a full-time team of employees. IT consultants are often hired on a per-project basis, which offers a flexible model of working for enterprises.
Apart from this, there are several other reasons to hire IT consultants. As more and more technological advancements arise, the need to hire expert IT consultancy services becomes imminent.
Conclusion
Today, IT consulting plays an important role in the success of a company's IT initiatives. They bring in the expertise, experience, and network needed to build and scale the IT system. Technological innovations will always require experts who have the necessary skills to look at problems from a different perspective and deliver the right results.
BoTree Technologies, a leading enterprise software development company and IT consulting services provider, offers the right IT specialists needed for timely and effective IT strategies and planning. 
Contact us today for a FREE CONSULTATION.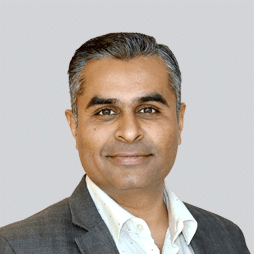 Shardul Bhatt
Shardul strongly believes that the potential to surpass expectations is inherent to each individual. He is committed to helping each and every member at BoTree achieve their dreams and get the most out of their lives. He has a strong technical background and has been in the industry since 2002. He is building BoTree since 2012. He loves to read, exchange ideas and travel.
Choose Your Language
Subscribe to Our Newsletter