About Swadesh
Swadesh is an eCommerce store that focuses primarily on selling Indian and South Asian grocery products. It enables customers to purchase Indian products online and offers discounts on each product. Customers can place online orders for authentic Indian food, south Asian frozen delicacies, and other eatables. It also offers special discounted products to customers on different Indian festivals like Rakhi and Diwali.
Technologies Used
Ruby on Rails
JavaScript
JQuery
Liquid Template
HTML
CSS
Services Provided
E-commerce Development
Web Designing
Support & Maintenance
Business Problem
As a retail store, Swadesh was facing challenges in managing orders and keeping up with the changing customer needs. The client wanted to provide an unmatched customer experience while shopping Indian products from them. There was also inefficient internal communication between different divisions that disrupted the business processes. Apart from that, forecasting customer demand and buying the right quantity was becoming a significant challenge. There was a need for an online store from where customers could easily purchase the products, and there was effective communication with the suppliers.
Solution
Our developers built an eCommerce store using Shopify for the client. The dual functionality for both the customer and admin were added to the platform.
We integrated functionalities at the administrator end, which included adding and removing products, selecting product categories, offering discounts, ingredient selection and much more.
A comprehensive dashboard was developed, which enables the admin to see all the information regarding the supermarket. It also has an analytical report section that shows the daily sales and other reports.
At the customer end, we installed product search functionality, quantity selection, product sharing on social media, and customer support.
There are different categories of products that customers can search. They can avail the discounts, whenever available, and get notified about future sales.
Features
Have a look at the top features that our developers incorporated into Swadesh.
Product-based Offers
There were different discounts and offers for each product in all the categories. Customers could purchase any product and get a deal related to it.
Central Dashboard
The platform had a centralized dashboard, which enables the administrator to manage the product, offers, customer information, and get sales reports.
Easy Payments
We enabled different payment methods for easy purchasing of products and ensured the security of the transactions for the customers.
Purchase History
There's the option of saving the user's purchase history in the application so that they can track what the customers bought in the past.
Application Overview
Index
Category / Product Listing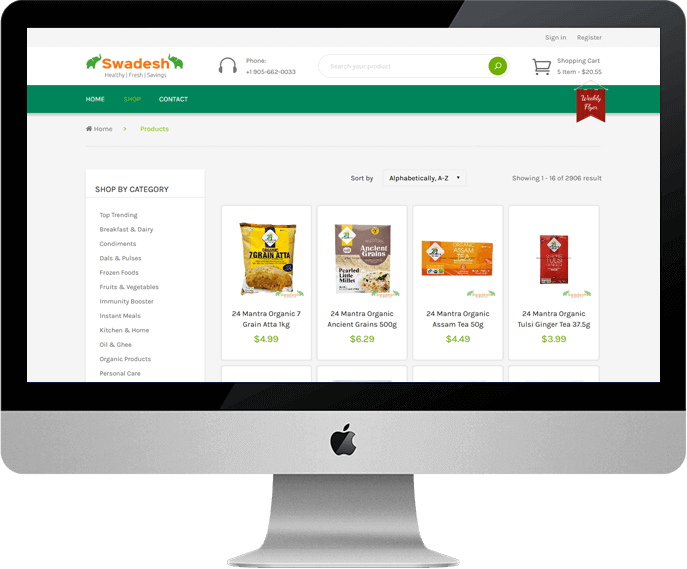 Product Search Result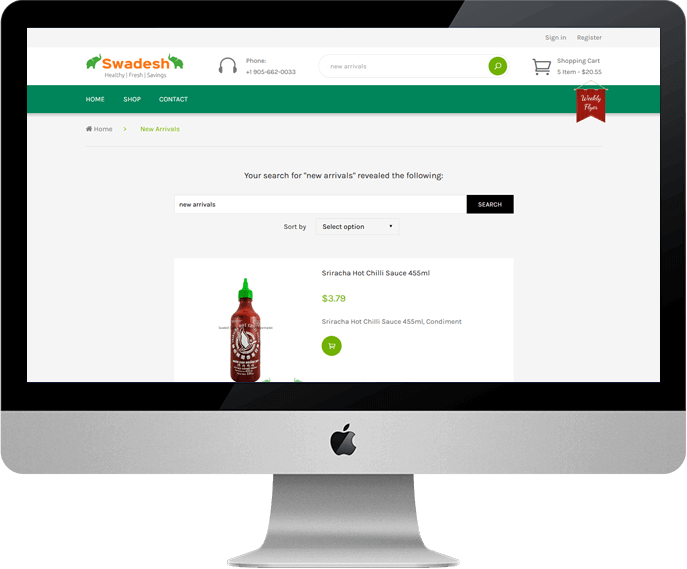 Product Details
Products in Cart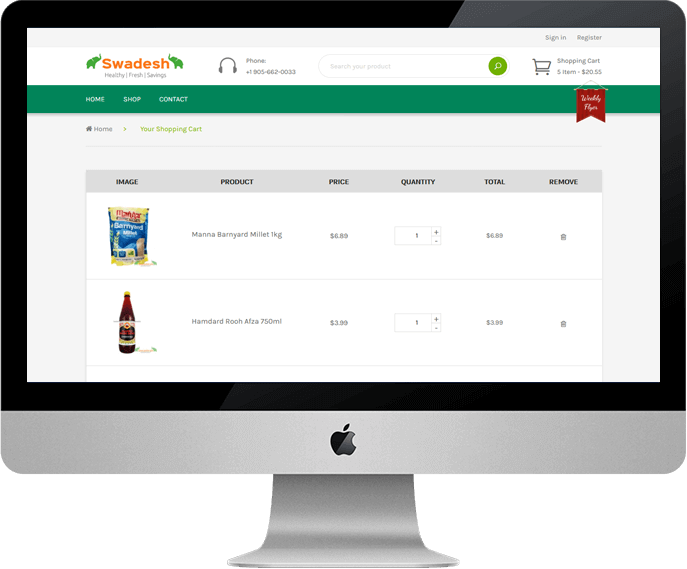 Checkout
Need a Online Grocery Store? Get your FREE QUOTE today!
Recent Blogs
Stay updated with our latest blogs on Ruby on Rails.