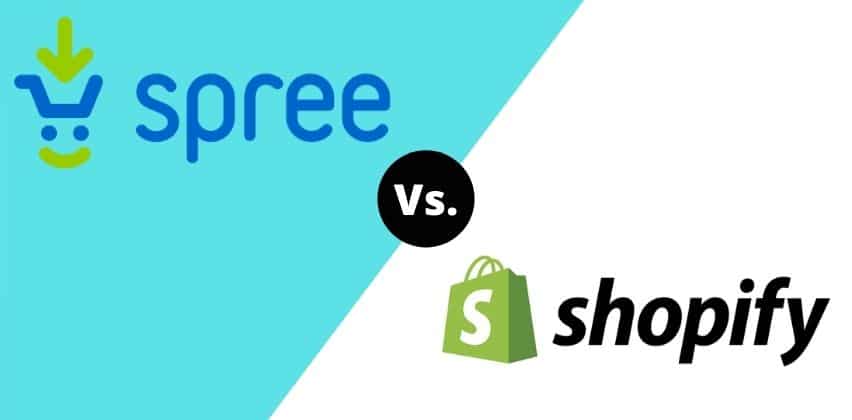 Spree Commerce vs. Shopify Comparison: Which eCommerce Platforms to Choose in 2022
Are you looking to start your online store? An eCommerce business can multiply your sales, help you reach more customers, and become well-known in different regions.
While exploring how to build an eCommerce store, you have probably come across Spree Commerce and Shopify. Both are fantastic options for building eCommerce websites.
Spree Commerce development services focus on building an eCommerce platform for scratch. It is known as the "Spree Commerce Platform," where you develop a store but host it elsewhere.
When you hire a Shopify app development company, you get your store hosted on Shopify. The company will design the entire Shopify store for you without heavy coding at the backend.
In this article, we will have a comparison of Shopify app development and Spree development. We will discuss the following:-
What is Spree Commerce?
Pros and Cons of Spree Commerce
What is Shopify?
Pros and Cons of Shopify
Which platform is best for your store?
Hopefully, by the end of this article, you'll be able to make a decision regarding the platform that can better serve you. Our aim is to guide you through the process and provide services that can assist in the growth of your eCommerce business.
What is Spree Commerce?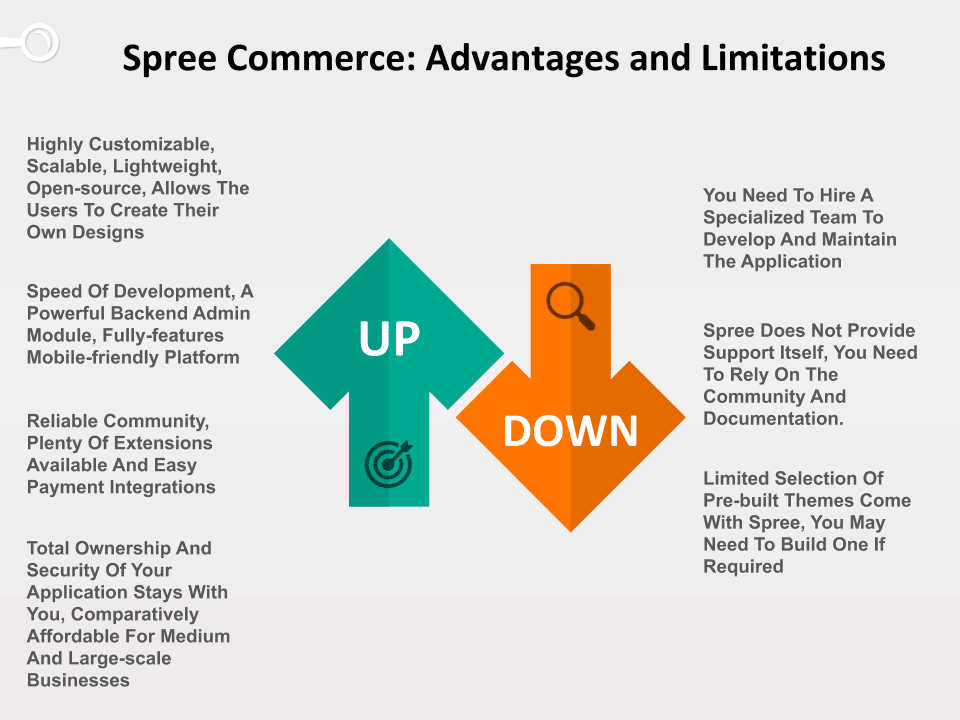 Spree Commerce was built for Ruby on Rails. It is an e-commerce development platform – and not a solution. Since it is an open-source eCommerce framework, Spree is continuously updated by the worldwide community of coders. The platform is available on Github that any e-commerce developer can use.
Spree development works perfectly well with RubyGems. There's payment gateway authorization, shopping cart gem, and much more that adds functionality to Spree Commerce. There are thousands of ecommerce stores that use Spree, including Chipotle Mexican Grill, Bonobos, and many more.
Spree is a technical platform. You need to know Ruby on Rails for building eCommerce websites using the platform. You can develop a fast, reliable, and scalable store with the Spree Commerce platform.
Pros of Spree Commerce
Spree as a platform is the ultimate for online stores. Here are a few pros of the ecommerce platform:-
Completely free
The biggest advantage is that the platform is open source. It means that it is 100% free to use. There's no licensing or downloading fee that you have to pay.

Customization
Since Spree was built for Ruby on Rails, you get access to a world of customizations. There are high-quality gems that are perfect for creating the store as you wish.

Third-party integrations
Spree development allows for extensive third-party integrations. Developers can integrate features and functions that are not available by default.

SEO compatibility
From a marketing perspective, Spree is amazing. There are functions to add meta descriptions, permalinks, and other things that improve your website's performance in search engines.
Cons of Spree Commerce
The open-source ecommerce framework has a few disadvantages as well. Here they are –
Technical background
Spree requires you to hire Ruby on Rails developers who can work with the platform. It calls for a technical background as there's heavy coding involved.

Limited themes
At this point, there are only a handful of themes available for Spree Commerce development. Creating a website from scratch limits with the theme offerings.

Custom development
Sometimes, even adding a common functionality may not have a RubyGem, and developers have to custom build it. It's time-consuming and increases the code on the websites.
What is Shopify?
Shopify is the leading eCommerce solution for building online stores. There are nearly 400,000 merchants using the platform, generating gross revenue of around $16 billion. Shopify website development is cloud-based – meaning you can host your store on the platform itself.
It is not necessarily a platform – rather a solution. It works on LIQUID – a Ruby-based template language that works with HTML and CSS. From store development to Shopify payment, you get a lot of in-built functionalities that don't require heavy coding.
Yes – Shopify is a non-technical platform. But you need experts who can design the perfect store and make you an eCommerce industry leader in your business. The solution offers themes that can help you reach the level of eCommerce giants in no time.
Let's have a look at some of the Shopify: Pros and Cons.
Pros of Shopify
Shopify is used by a vast array of users for their eCommerce businesses. Whether you are into fashion or selling shoes, Shopify can assist you. Here are a few advantages of Shopify development –
Variety of themes
Shopify has a massive library of themes to build a professional ecommerce store. You can also add new Shopify themes from different marketplaces. On top of that, if developers have the time, they can develop their own themes and use them for the store.

App library
Shopify has over 1500 applications that you can use for eCommerce website development. It has apps for everything – from payment gateways to adding products on the website. Shopify applications assist you in adding all the features you want in your store.

24/7 support
Don't worry about getting support – even though Shopify is a solution, support is available 24/7. Their team offers a quick responsive time. It provides answers to even the smallest of issues. You can reach them via live chat, email, or even phone.
Cons of Shopify
Shopify is not without its disadvantages. Here are a few cons of using the platform for ecommerce store development:-
Transaction fee
The biggest drawback of Shopify is that since it is a solution, it charges a transaction fee for every sale. Only when you use Shopify Payment, you'll have to pay a lower transaction fee but pay it nonetheless.

Customization limits
If you need to make heavy customizations in your theme, knowing LIQUID is essential. You have to hire a Shopify app development company with expertise in LIQUID language.

Less flexibility
The solution is less flexible than Spree Commerce as you don't have access to the underlying codebase of the website. That is a disadvantage for many stores.
Also Read: How to Determine the Maintenance Cost for Ruby on Rails App
Conclusion: Which is Best for You?
The answer depends on various factors. However, the biggest two are – time and money.
Spree Commerce Development services are perfect if you have the time to build a custom store. There's no licensing fee involved. There is no transaction fee either. You have complete control over the functionality. You only need to hire developers who can build a custom store.

On the other hand, hiring a Shopify app development company is beneficial for quick website development. The platform costs money and charges a transaction fee but will have your store up and running in no time.
Both options are heavily used across the globe. By understanding the pros and cons of each, we hope you can make the right decision for your store.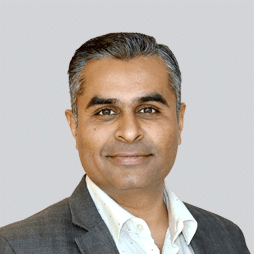 Shardul Bhatt
Shardul strongly believes that the potential to surpass expectations is inherent to each individual. He is committed to helping each and every member at BoTree achieve their dreams and get the most out of their lives. He has a strong technical background and has been in the industry since 2002. He is building BoTree since 2012. He loves to read, exchange ideas and travel.
Choose Your Language
Subscribe to Our Newsletter