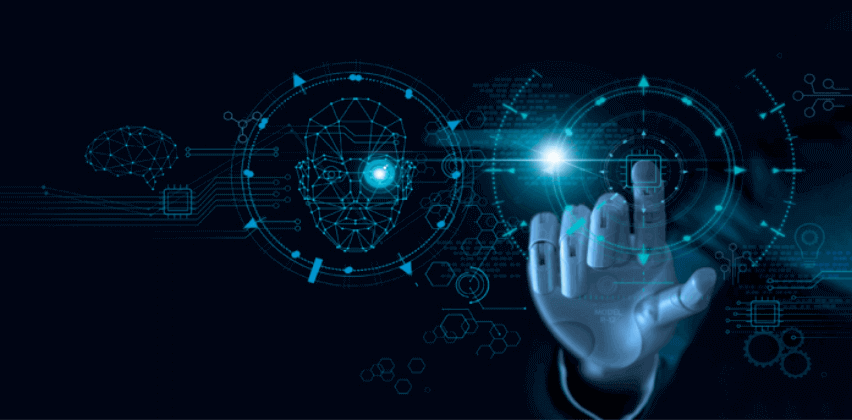 The Impact of Machine Learning in the FinTech Industry
The global AI in FinTech market will reach $26.67 billion by 2026, with a CAGR of 23.17%. AI and Machine Learning in FinTech improve results and deliver valuable insights for financial decision making.
For example – There are several Machine Learning solutions that connect a user's bank account and investment account to provide real time analysis of their financial performance. All new incoming data leads to custom advice for managing the finances.
The above example is a consumer-focused area of FinTech.
For enterprises and companies, AI and Machine Learning in FinTech provide insights into the financial statement, expenditure patterns, and overall assessment of their performance.
This article will explore how Machine Learning and finance go together in the modern world.
Is Machine Learning used in Finance?
Machine Learning applications in Finance are constantly multiplying. It enables processing large amounts of data sets and reaching valuable conclusions. Machine Learning algorithms provide analytical capabilities and save a lot of precious time. They are a cost-effective solution to process data in real-time and derive patterns for decision-making.
Today, many enterprises use Artificial Intelligence and Machine Learning in FinTech. It helps them to meet the evolving market requirements.
Lendingkart is a prime example of how financial firms use Machine Learning in finance industry. It offers entrepreneurs easy access to work capital. The FinTech app uses Machine Learning to assess the creditworthiness of the person through tons of data. 
It has been a boon for small businesses that require financial assistance.
Read more: Top 5 Machine Learning Latest Trends you Should Know in 2021
Why is Machine Learning Important in Finance?
There are several benefits of ML for FinTech. From the consumer point of view it –
Improves the customer experience by providing financial performance analysis
Provides better market opportunities by identifying hidden insights
Reduce the cost of process optimization and human efforts
Deliver constant support when combined with chatbots & RPA
Ensures companies can make better financial decisions using data
From fraud detection to asset management & tracking, today, there are Machine Learning FinTech startups for almost every operation.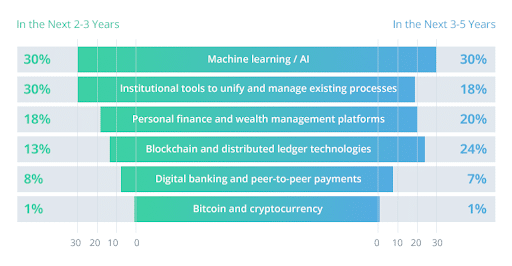 One common use of Machine Learning in the banking industry is to go through a loan prospect's past data and financial performance to understand their eligibility for the loan. It takes less time and gives better insights into his or her financial situation.
How is AI used in FinTech?
There are countless AI and Machine Learning use cases in FinTech, and they are growing every day. The financial industry is finding newer ways to implement the technology and achieve better results.
Here's how AI and ML are used in the FinTech industry –
Fraud Detection



One of the biggest FinTech ML use cases is detecting fraud in the banking and financial industry.
The growing number of digital transactions poses a massive risk. AI can monitor the system 24×7 and provide alerts & notifications when it detects any suspicious activity.
The technology can track hundreds of parameters in a single instance and check whether the transaction is a usual one or not. They are much quicker at detecting unusual patterns than humans.
Financial monitoring is also a powerful use of ML and AI to avoid money laundering. Data Scientists build solutions that can detect a huge number of micropayments to ensure no unethical activities take place.
Financial Decision Making



Companies need insights to make financial decisions. There's a lot of complex financial information that companies have. Investment accounts, expense accounts, transactions, payments, and more make a good financial sheet.
Analyzing this data requires a lot of time and effort. One of the best use cases of Machine Learning in Finance lies in the ability to process large amounts of data and make sense of it.
These Machine Learning algorithms provide valuable patterns and insights that are useful for decision making. Often, companies can also assess the performance of a company they want to acquire using Machine Learning tools.
Visit here: Top 7 Machine Learning Challenges for Implementation in Businesses
Performance Forecasting



FinTech businesses provide Machine Learning platforms that help to predict the future variables in the financial department.
For example, by inputting expenditure data through the Machine Learning program, companies can process it and identify how much they will spend in the next quarter or interval.
Forecasting is important for businesses to prepare a budget and meet their financial goals. Today, there are analysis tools available that can help companies forecast values for saving costs and increasing their income.
Of course, Machine Learning runs through a lot of parameters before forecasting the values for any financial metric.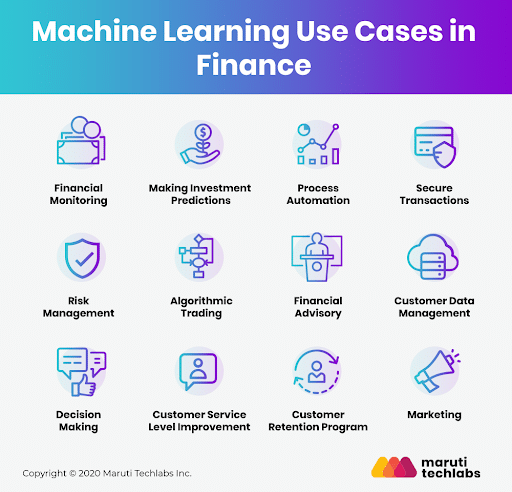 Algo Trading Solutions



Taking trading to the next level is one of the largest advancements of Machine Learning in FinTech.
Through automated methods, AI systems have pre-installed instructions for executing orders at the best price. Algo Trading leads companies to make quick decisions and execute profitable orders.
ML algorithms consistently go through the volatility of a stock. When the parameters are fulfilled, the system provides insight and executes the trade to achieve the maximum advantage.
Simple algo trading focuses solely on order execution, while advanced solutions are now available to execute when the trade is most profitable.
Customer Service


Checkout: What is Machine learning? How It Works and Why It Matters
Bottom Line
Machine Learning is constantly evolving, and FinTech is a prime industry using its advancements. Today, Machine Learning FinTech enterprises are proliferating – only because data analysis has taken center stage.
Everyone benefits from data analytics that yields profitable results for financial institutions. Even individuals can take advantage of insights and earn a good ROI.
At BoTree Technologies, we build data-intensive Machine Learning solutions for startups and enterprises.
Contact our experts today for an online consultation.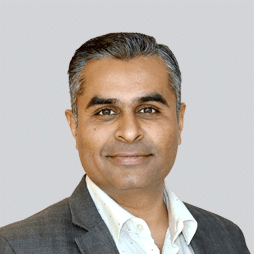 Shardul Bhatt
Shardul strongly believes that the potential to surpass expectations is inherent to each individual. He is committed to helping each and every member at BoTree achieve their dreams and get the most out of their lives. He has a strong technical background and has been in the industry since 2002. He is building BoTree since 2012. He loves to read, exchange ideas and travel.
Choose Your Language
Subscribe to Our Newsletter