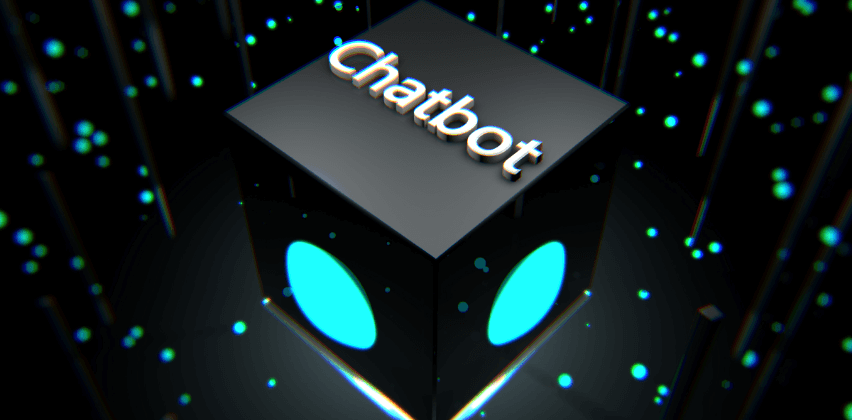 Top 13 Chatbot Platforms for Building Virtual Bots in 2022 (Updated)
Chatbots are crucial in improving the service effectiveness of any business. They provide a personalized experience and top-notch customer service. AI chatbots are emerging as the game-changers for product and service-based organizations all across the globe. There are highly popular chatbot platforms that can help to build interactive bots for your business.
Which Websites Use Chatbots?
Amazon, Walmart, Zomato, and most online retailers now have AI-powered chatbots in place. Studies show that 52% of customers prefer to talk to a chatbot because of their responsive nature. Intelligent Chatbot marketing is now transforming the customer service industry.
Due to this rise in chatbots for eCommerce and other industries, chatbot development platforms are becoming increasingly popular. Some of the AI chatbots software even enable building chatbots without writing any code.
This article will highlight the 13 best AI chatbots software for developing interactive and intelligent chatbots for your applications. You can pick the best one and hire a chatbot app development company to get a bot for your business app.
Are Chatbots Useful For Your Business – Checkout blog to know more.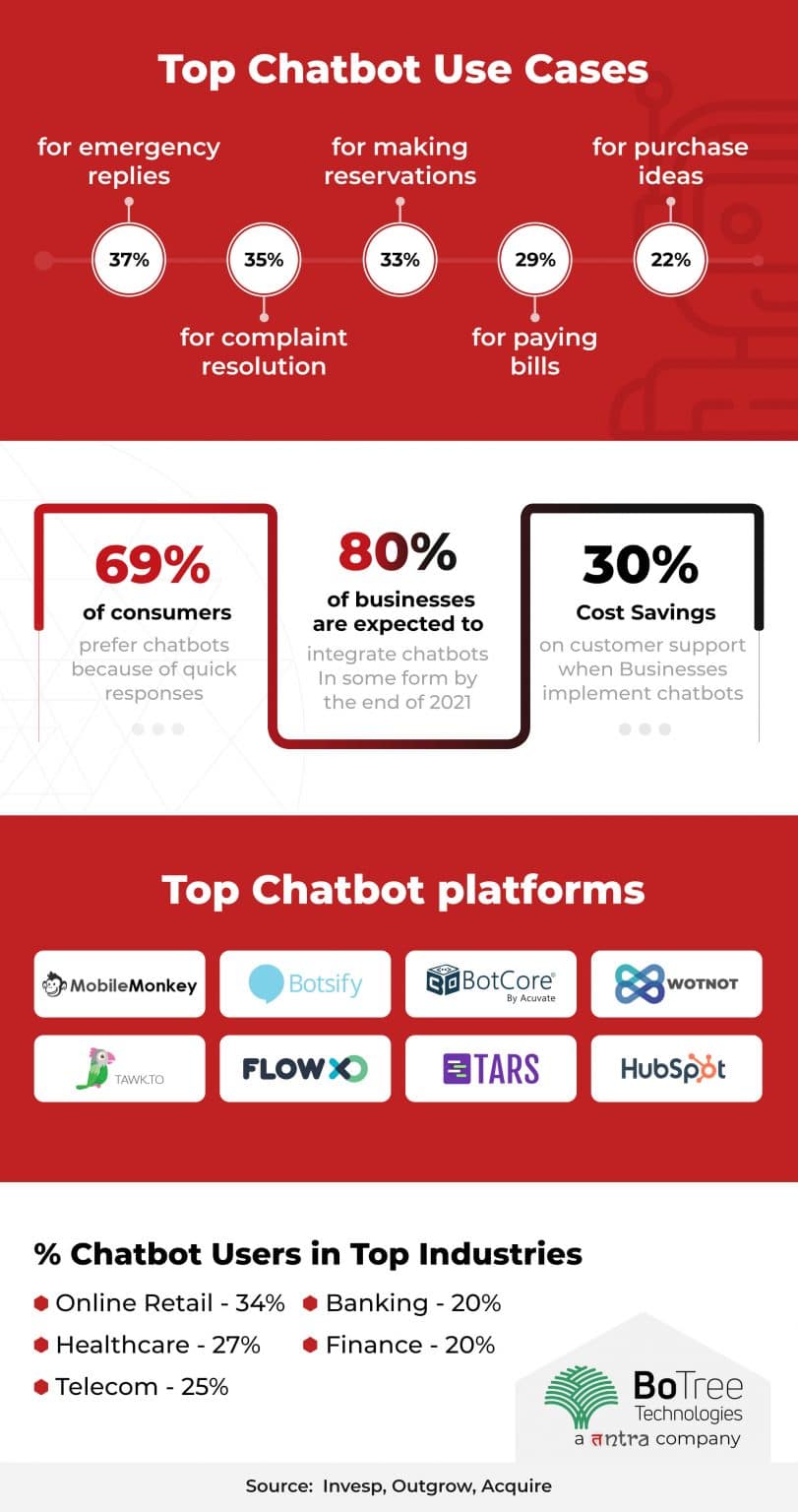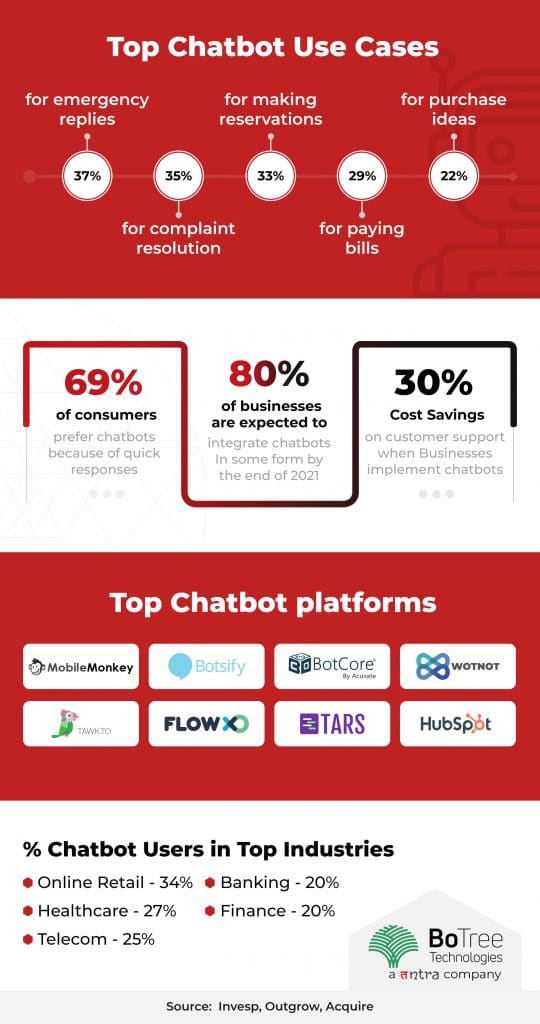 What are Chatbots Used for?
Chatbots are used for a wide variety of things. Some of the leading use cases of chatbots include –
Customer Services
Chatbots are great at providing customer services as they can answer common queries.

Bookings & Reservations
By building a chatbot, companies can accept bookings and reservations.

Purchase Support
Chatbots can tell people whether products are in stock or not and provide suggestions.

Accept Payments
There are interactive bots that can accept payments for product purchases.

Virtual Assistants
Chatbots are conversational virtual assistants helping people with day-to-day activities.
How Do you Develop a Chatbot?
Today, chatbots do not require heavy coding. There are Ai chatbot platforms that can help conversation and highly advanced bots. The best chatbot building platforms have a drag-and-drop interface that enables people to easily develop a bot.
However, you still need to have a strategy in place to create a enterprise chatbot. Companies must understand that there are stages to building a chatbot.
First, they must identify the purposes of building the chatbot. It helps to understand what activities the chatbot will undertake.
The next step is to hire a chatbot developer for building the bot. The best chatbot deployment platforms require some level of skill, which an experienced developer can provide.
After that, you must choose a chatbot builder or a platform for your business. Once that is done, the developer can create the chatbot with ease and deploy it in no time.
What are the Best AI Chatbot Platforms?
Following are the 13 best AI chatbots development platforms that you can use to build powerful, scalable, and rapid chatbots for your web apps and websites –
Mobile Monkey
Designed for integration with Facebook Messenger, Mobile Monkey is one of the top AI-powered chatbots platforms. You can connect the chatbot with your ad campaigns and utilize it for drip marketing. There are in-built chatbot forms, lead magnets, and automation tools for your marketing efforts. The chatbot enables converting your visitors into customers. There are free and paid versions available for the platform with added features like integrations, SMS, and more.

Botsify
With Botsify, you can build custom chatbots for websites as well as a Facebook Messenger and Slack. You can create seamless flows and build conversational, AI-based chatbots. Botsify doesn't require coding as you can start with the drag-and-drop interface. You can get a bird's eye view of the entire flow and integrate different plugins as well.

Botcore.ai
Mostly used for enterprise-level businesses, Botcore is a no-code chatbot development platform for building interactive bots. You can integrate the chatbot with legacy systems. There are chatbots for eCommerce, sales & marketing, supply chain, security, and alerts & triggers for specific actions. The chatbot focuses primarily on vendors and fulfillment, making it seamless for enterprise-management.

Wotnot
One of the best AI chatbots software, Wotnot, offers full-range of conversational chatbot marketing solutions for a wide variety of industries. There are pre-existing templates that you can quickly customize and build chatbot flows for your business. There's also the live chat feature for supporting the sales & marketing activities. It enables human intervention as and when needed.

DialogFlow
A chatbot development framework from Google, DialogFlow allows you to build voice-based and conversational intelligent chatbots for your business. You can build Facebook messenger bots and integrate with Google Assistant, Alexa, and other VAs. It is available for both mobile and web applications. The platform uses Natural Language Processing to optimize conversations and offer a human-like feel to the clients.

TARS
TARS is one of the top AI solutions in chatbot for landing pages and increasing your conversion rate. There are 800+ templates that you can choose from for building an intelligent bot. The primary purpose is to increase your lead to conversion ratio. TARS focuses on multiplying the ROI on your marketing efforts through building conversational websites and chatbots.

Read more: How Chatbot Technology Impacts the Healthcare Business

ChatterOn
The promise of ChatterOn is that you can build AI chatbots within 5 minutes. It aims to be the fastest AI chatbots software for your business. The platform supports rich content for hybrid chatbots, including images, videos, carousels, and more. The biggest advantage is that all the premium features of ChatterOn are available for free, up to 15,000 messages for your business.

FlowXO
You can build interactive AI-powered chatbots with FlowXO that can be integrated across all platforms – websites, social media, and mobile applications. It is an amazing chatbot for e-commerce that offers custom greetings to visitors. The chatbot built with FlowXO can accept payments by identifying the product or service that the customer has purchased.

HubSpot chatbot builder
Another of the popular chatbot development platforms, the HubSpot chatbot builder offers 200+ integrations. You can build a scalable bot that offers nearly unlimited conversational capabilities. It provides email tracking, lead addition to CRM, and integration with Gmail and Outlook. The biggest benefit is that the bot offers you a unique glimpse of the human touch while conversing.

Amplify.ai
Marketed as the next-gen chatbot marketing solution, Amplify.ai provides personalized conversations for a wide variety of landscapes. You can build branded virtual assistants for delivering a specialized & unique user experience. It enables you to deliver conversational ad experience on Instagram and Facebook using a platform called AdLingo.

Aivo
Known for its customer service & support capabilities, Aivo enables you to deliver unmatched service experience. You can build AI-powered chatbots to respond to customers in real-time and increase your conversion rate. It doesn't require any coding and offers chatbot support for 50 different languages. You can integrate the platform with Zendesk, Sapier, Salesforce, and others.

Imperson
Used specifically by enterprises, Imperson enables building high-quality AI chatbots that support audio, video, text, voice, AR, and VR on all significant platforms. Imperson delivers authentic customer experience through its NLP capabilities. It is an end-to-end chatbot AI solution for Skype, Facebook, Messenger, Slack, Kik, and several other chat platforms.

Boost.ai
When you want to build a virtual agent that can work seamlessly with natural language processing, Boost.ai is the best option you have. It is one of the best AI chatbots software with 100+ live virtual agents, 10 million+ interactions, and 1000+ certified trainers. Boost.ai enables you to build scalable chatbots that use NLP for human-like conversations and helps in creating dynamic chatbots.
Checkout AI Based Skype Chatbot Case Study
Leverage Chatbot Marketing for Effective Service Delivery
And not only services – chatbots are amazing for enterprise apps, CMS, and customer-centric web applications. They can deliver the right information at the right time, talk to the customers, and direct them to the right personnel.
Building a chatbot can seem challenging. The no-code platforms make it easier as you have to drag and drop. However, having experts by your side can rapidly multiply your chances of developing a successful bot. BoTree Technologies is a leading chatbot development company that can assist you with AI-powered chatbots with conversational capabilities. Start building your bot today with us!
Contact us now for a FREE ESTIMATION.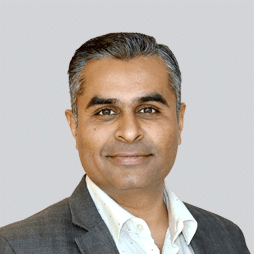 Shardul Bhatt
Shardul strongly believes that the potential to surpass expectations is inherent to each individual. He is committed to helping each and every member at BoTree achieve their dreams and get the most out of their lives. He has a strong technical background and has been in the industry since 2002. He is building BoTree since 2012. He loves to read, exchange ideas and travel.
Choose Your Language
Subscribe to Our Newsletter