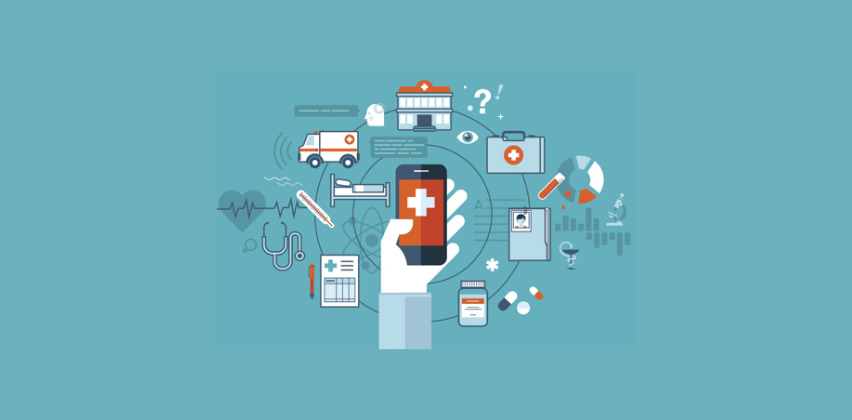 How HealthTech Helps to Build Cutting-edge Solutions for Patients
Did you know that 1 in every 5 American tracks their health statistics using an app? Healthcare software solutions are extremely popular amongst health-conscious millennials who want to regularly monitor their health.
The pandemic is also driving the growth of healthcare solutions. People want to track their health and ensure that they are safe. COVID laid a special emphasis on the blood oxygen levels (SpO2) for the average individual, which led to a growth in smartwatches that have the SpO2 monitoring feature.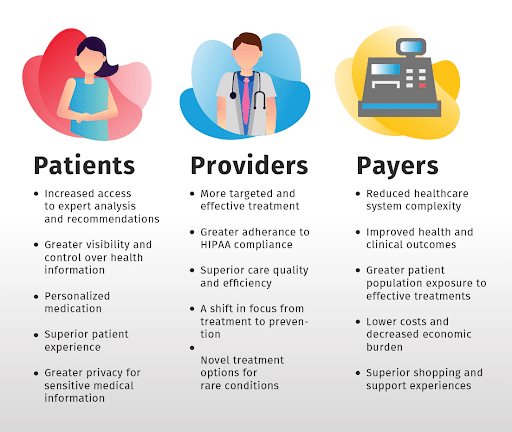 Today, patients require solutions that keep them connected with the facilities. Many medical institutions have their digital health solutions where people can contact doctors, get test reports, pay bills, and do much more.
Cutting-edge solutions in healthcare like AR and VR imagery for diagnosis are turning out to be a game changer for patients. By displaying accurate images, AR & VR is enabling doctors to identify diseases faster and start the treatment before it is too late.
Read more: Top 10 Mobile Healthcare App Development Trends 2021
What are the Latest Healthcare Technologies?
Digital health companies are consistently incorporating newer healthcare technologies to augment patient outcomes and deliver better results.
The pandemic is driving digital health tech companies to test technologies for meeting their full care delivery potential. Some of the latest healthcare technologies include –
Artificial Intelligence

Blockchain


Blockchain offers massive interoperability, storing data in real-time across a decentralized network that enables all the stakeholders to access the patient data.
On top of that, it is a secure network for storing data because patients have complete ownership of their information as it is not stored on any server.
Chatbots


Chatbots are one of the most innovative healthcare solutions that act as virtual assistants to patients for reminding them of medicines, scheduling appointments, answering common queries, and more.
Chatbots are a great way to stay connected with the medical facility 24×7. They are a great tool for the elderly who need constant reminders about multiple health-related aspects.
Wearables


One of the drivers of healthcare software development are wearables. People can track and monitor their health data, including their daily fitness history, sleep pattern, stress levels, and more.
Wearable gadgets are highly popular amongst every generation. Smartwatches offer a great way to monitor health data in real-time and make the necessary changes.
mHealth Apps


Today, mHealth apps are now working towards managing global health problems like COVID-19. The Indian government's app, Aarogya Setu, aims to track people who have tested positive in a particular area and break the chain.
mHealth apps are becoming highly useful for this generation stuck at home during the pandemic. It provides a mobile way to stay in touch with their health and track it properly.

Let us understand how useful these apps are.
Click here: Machine Learning in Healthcare: 5 important developments you can't afford to miss
What is the use of Health Apps?
44% of the US population used a mHealth app in the past 12 months. Health monitoring systems also grew in demand due to the on-going pandemic. Apps are linked to these systems, which showcase the health data.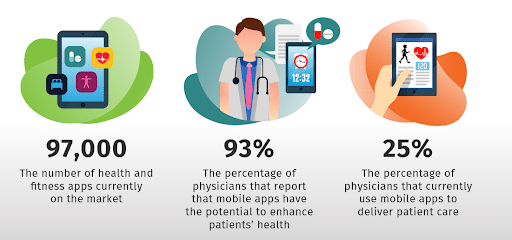 There are various use cases of healthcare solutions and applications. As the world progresses towards digital health services, apps find their way in most people's day-to-day lives.
Here are the top use cases of mobile health apps in 2021 –
Electronic Health Records


One of the best use cases of a health management platform is EHRs or electronic health records. Instead of using paper-based records and files that are easily lost, health IT companies now build mobile apps for healthcare providers to record patient data.
It helps doctors to access the patient's health data in real-time, assess their medical history, and make valuable decisions. Since the records are on the cloud, clinicians can go through EHRs and see the entire treatment and diagnosis history as well.
Scheduling Appointments


Healthcare applications enable patients to schedule, reschedule, and cancel their appointments. It reduces the hassle of calling the busy hospital staff and making an appointment in easy steps. People can look at the doctor's calendar and book a slot through the app to get a consultation on time.
Healthcare apps remind patients of their appointment, which leads to a lower number of no-shows. People often complain that they forgot about their appointment. Well, guess what – now there are apps that can help you reach the doctor's office on time.
Telemedicine Facility


Another useful invention in the healthcare industry is the development of telemedicine apps. They are a comfortable, convenient, and cost-effective way to reach doctors and get consultations. Telemedicine apps enable patients to get remote consultation through webcam or mobile.
Doctors are also taking advantage of telemedicine healthcare application development to build apps that patients can use to reach out to them. AmWell, MDlive, Doctor on Demand are a few examples of telemedicine apps for patients.
Health Tracking


As wearable gadgets become more and more popular, health tracking is taking center stage. People are now using health tracking apps to monitor their heart rate, SpO2 levels, stress level, daily step count, sleep health, and much more. Health tracking is enabling them to take a closer look at their day-to-day health.
Health applications are the focus for many people as smartwatches track a lot of health-related data. Some even go to the extent of reminding people about their fitness goals. The market is booming with mHealth apps that have the potential to track all aspects of health.
Fitness & Nutrition


A more advanced and trending use case of healthcare apps is using them for fitness and nutrition. These apps provide videos and online courses for workouts, yoga, meditation, dance, and other forms of exercise. Since they do not require going to the gym, people admire these apps for their convenience. Healthcare experts suggest that these apps are a great way to start.
Apps that help to track nutrition and dietary patterns are also popular. They provide a food journal where people can record their eating habits, the nutrients they consume, and how much they should eat. It is a starting point to eat healthy for many people.
Checkout: Healthcare App Development: The Problems Your App Must Solve
Wrapping Up
Today, there's a high demand for a healthcare app development company to build healthcare solutions that deliver better patient outcomes. Healthcare Technology is advancing every day, and newer inventions lead to improved care delivery methods. As the world progresses, doctors will find much better ways health apps can help patients.
BoTree Technologies is a leading healthcare app development services provider, building mHealth and digital health applications for medical facilities and companies.
Contact us today for an online consultation.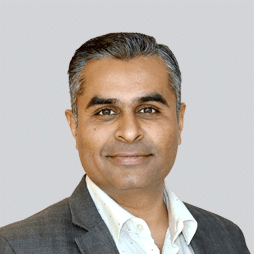 Shardul Bhatt
Shardul strongly believes that the potential to surpass expectations is inherent to each individual. He is committed to helping each and every member at BoTree achieve their dreams and get the most out of their lives. He has a strong technical background and has been in the industry since 2002. He is building BoTree since 2012. He loves to read, exchange ideas and travel.
Choose Your Language
Subscribe to Our Newsletter