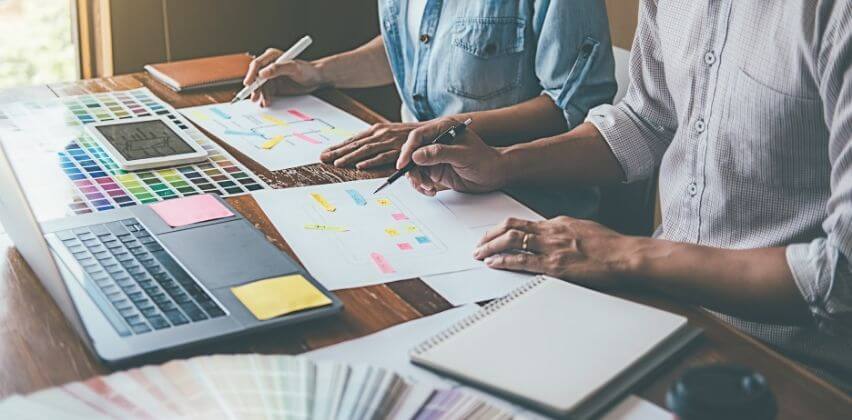 The Pros and Cons of Outsourcing Your Web Design
Nobody works as hard as your website does. Websites work while everybody's asleep or even when you're out on a holiday. They work on building your brand and if excellently designed, they can consistently give you conversions with a minimal amount of effort on your part.
Thus, whenever a business decides to go digital, a great website should top its list of priorities. It's not easy to build a website—business owners tend to get conflicted as to whether they should build, hire, or outsource a web designer to do the job for them.
Cyberattacks, unwanted bugs, and other issues and vulnerabilities can occur when you don't have a solid web design. For reference, this article explains the most common types of network vulnerabilities. And one of the most effective ways to prevent cyberattacks from happening is none other than—outsourcing your web design.
What You Need To Know About Web Design
Nowadays, companies use websites to introduce and promote their brand online. Their website also allows them to get more traffic from prospective customers. However, not all websites can perform this way.
A good website starts with having an effective design. To achieve this, you need to make multiple components work well together. These can include graphics and typography, or design trends like parallax scrolling or minimalism.
Sometimes, you might even need to consider whether a responsive design fits your business objectives better than the adaptive one. Though there are many factors to consider, the main goal should be to create a great experience for your users.
Why Your Web Design Matters
There are many reasons you would want to have a web design that doesn't only appeal aesthetically, but is also fully functional.
The first reason is to provide a great user experience. This way, you can also build brand loyalty and expand your client base. A person who gets to experience the ease of using your website will likely share how great it was with another person.
Another reason is that a well-thought-out and planned web design would please the search engine gods. Algorithms of large search engines are always on the lookout for websites that load quickly and are mobile-phone friendly. They also prefer those that are SSL (Secure Sockets Layer) certified and those known for longer uptime. These characteristics are only possible if you have a good web design.
How To Design Your Website
With all the benefits that come with a good web design, it's not surprising why many businesses would like to go in this direction.
Business owners are faced with many options. They can sign up and employ the services of website builders. This option doesn't require coding skills, as this type of service usually comes with pre-made templates or drag-and-drop options in building the website of your dreams.
There are two more options in building a website—to hire a web designer or outsource a web design agency to create it for you.
If you decide to hire a professional and experienced web designer, you need to consider that many of them charge higher fees compared to the newbies. When hiring a newbie web designer, know that you may still have to train and orient them about the brand and the website you want to build.
Before saying yes to an agency that has offered its services, make sure you understand what you're getting yourself into.
Outsourcing Web Design
Outsourcing web design simply refers to the practice of hiring a third-party company or website design firm to build the website for you. Despite the convenience it offers, there are still a few things to consider. 
If you're wondering whether outsourcing your web design is the best solution, make sure to review its pros and cons listed below.
Pros Of Outsourcing Web Design
If you're still hesitant about outsourcing your web design, here's a list of some of its benefits.
1. Time-Efficient
Whether you're a web developer or not, building and managing a web development team would require a lot of knowledge, time management, and many more.
However, as a business owner, your focus should be on generating leads and building effective strategies. This also includes converting traffic into sales. Screening applicants to become part of your web development team shouldn't be one of those things.
By hiring a third-party company with professional web designers and freelancers, you're assured that they will do the job in the quickest and best way possible.
2. Cost-Efficient
Outsourcing, in general, is more cost-efficient than forming an in-house web development team. Not only will you have to deal with providing training, managing payrolls, and buying the tools and software for their use, it can also be extremely expensive to supervise a team of developers.
3. Fresh Perspective
While brand consistency can be better achieved by working closely with people who belong within your company, it won't hurt to introduce outside experts once in a while.
Not only will they breathe new ideas into your design, but they might also be able to help improve your existing web design processes.
4. Wide Range Of Options
When you outsource, you're opening your organization not only for opportunities, but also for a diverse set of individuals.
The internet has turned the world into a global village, which means that your options of working with a web design agency are not limited within your community. You can even tap into talents from another continent.
Cons Of Outsourcing Web Design
Confident that outsourcing is the way to go? You might want to read some of its disadvantages listed below.
Cookie Cutter Methods
One of the downsides of outsourcing web design is the application of cookie-cutter web design methods. Since web design agencies usually work with multiple companies, their approaches are likely built for their clients who come from various industries. Thus, their methods may be similar regardless of who they're working with—a business startup or a tech giant.
A uniquely tailored web design is an important factor in letting potential customers remember your brand and the products and services you offer.
Lack Of Control
Since you'll be working with a third-party agency or a freelance web designer, you need to be realistic with your expectations from them. This includes the possibility that they might not value your deadlines or specifications as much as you do.
This lack of control over your project can lead to security and privacy problems. Sending out your resources and materials to the outsourced party might also mean surrendering your rights and control over your data.
Communication Problems
As a business, you would want your most important marketing tool to represent you. Thus, if you fail to communicate what your business is all about, including its mission, vision, or principles, you're at risk of not getting the website you've been expecting.
If you've decided to hire web design talents from other countries, communication problems may occur due to language barriers and different time zones. This would result in fewer updates, and you may also end up getting frustrated.
Final Thoughts
Your website matters in growing your business, and so does the approach of how you build it. If you think outsourcing is the best solution for your business, then study and weigh its pros and cons. The list provided above doesn't cover every aspect, and there are other factors to discover. But by making the right choice, your business will be on its way to seeing real growth and results.
Choose Your Language
Subscribe to Our Newsletter