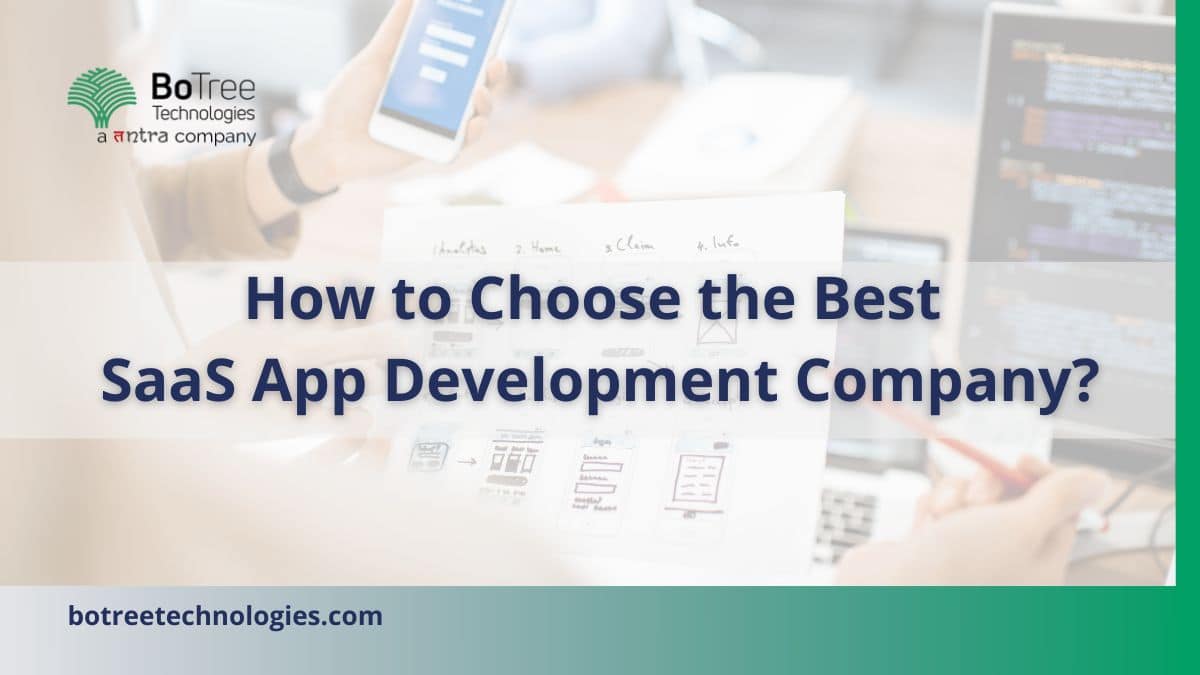 How to Choose the Best SaaS App Development Company?
Do you want to launch a software as a service (SaaS) product, and if so, how do you intend to select the best SaaS app development company?
Well, now let's see if you can make a decision. Our team is here to help since we have extensive expertise in creating customized software.
Let's get into further detail.
Overview
It's no secret that traditional software license purchases have been mostly displaced by the newer method of obtaining software via a subscription-based model called Software as a Service.
Do you know what to look for when selecting a SaaS application development company in your area? This is why the SaaS development model has seen such meteoric growth over the past decades.
It has been reported that the SaaS industry is expanding rapidly, with a predicted rise reaching $172.20 billion by 2025.
The many advantages it provides to its consumers in a short amount of time are the primary reason for its universal popularity.
SaaS application development services provide a roadmap and the best choice for each company considering producing software.
What is SaaS App Development?
The SaaS, or Software as a Service, app development strategy is distributing and selling software online. Enterprises and individuals who pay the required membership fee can access these, and businesses can even commission their unique implementations.
They now have the recognition they deserve after years of neglect. Due to past assumptions about cloud-based software and storage security, most companies preferred on-premise software.
The Cloud has become one of the most secure locations to host software. This is why many companies prefer to use SaaS development services instead of installing software on their servers.
Advantages of SaaS Application Development
In addition to lowering overhead costs, this method also expands the system's reach, boosts its scalability, and makes it easier to use, even for those who need to be tech knowledgeable.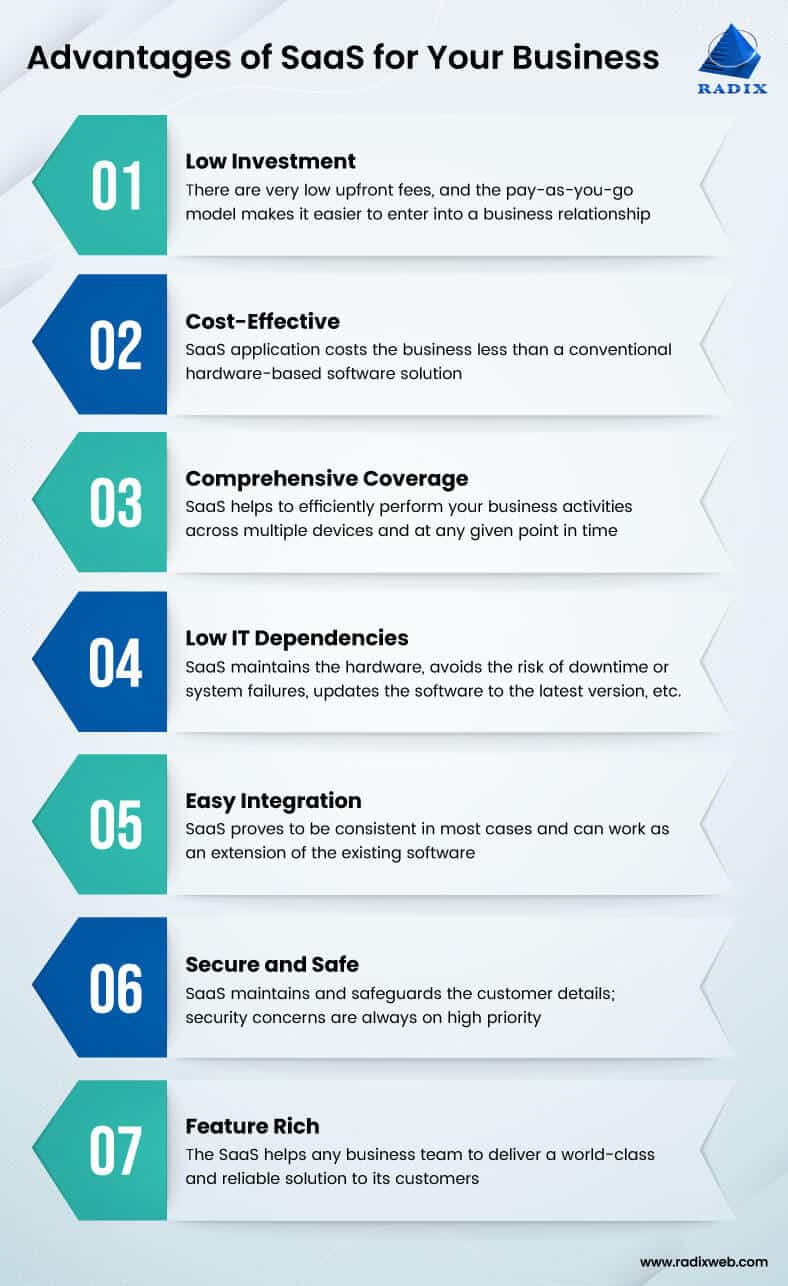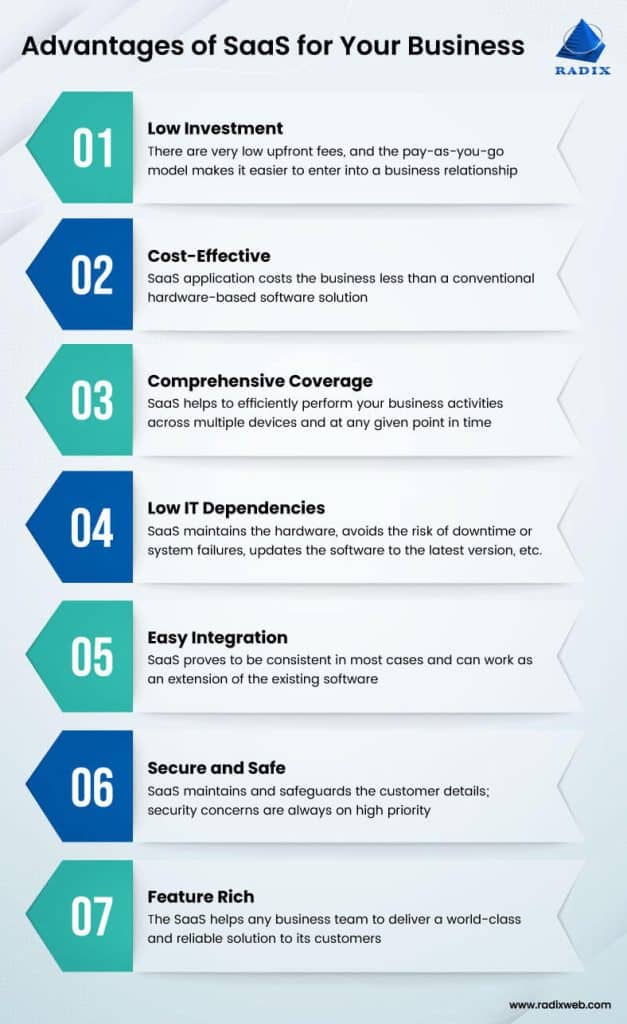 SaaS application development company offer a wide range of other advantages for its customers. So why should you and your business put time and effort into creating a SaaS application?
Improved Source of Income

SaaS applications feature a subscription model, as opposed to traditional apps, which need you to build a monetization plan, which might be difficult.
It means you, as a vendor, can monitor your monthly subscription count and make informed predictions about future income based on that information.
It's also simple to apply the advertising methods you'll need to attract a specific quantity of users and so achieve your monthly or annual income targets.
Scalability

To swiftly accommodate your users' expanding businesses or more sophisticated use cases, you can expand your app in parallel with them. When the demands of the user base change, the user may quickly grow their business by upgrading their monthly membership.
Accessibility

SaaS solutions, no matter if they're desktop or mobile, require nothing more than an internet connection and an initial account setup on the user's preferred device.
Your product may be used right away without any further setup or technical know-how on the part of the customer. One of the main selling points of software as a service (SaaS) is its ease of use and accessibility.
Updates

The cloud-based nature of a SaaS application means that it may be updated centrally and often without interrupting corporate operations or user service.
Your app's development timeline will be able to handle unexpected problems during testing, and you may roll out updates as soon as they become available.
SaaS development demands specialization due to its specific requirements. Hence, don't hurry into designing your own SaaS software, no matter how attractive. This procedure requires an expert SaaS software development partner.
Where do you go for a SaaS development team to work with, though?
How do you decide which one is best?
For these reasons and more, we've compiled this comprehensive guide to finding a reliable SaaS development partner.
Adding this to the list of things to think about before deciding on a technology partner. Well, let's quickly go through each of these.
How to Choose a Best SaaS Software Development Company?
Be Aware of Your Needs

The success of every project depends on your ability to predict its needs, from staffing to funding accurately.

Think about –

What do you want from your app?
What kind of app will it be?
What updates or improvements might be made in the future?

The essential categories of SaaS applications are as follows.

Customer Relationship Management (CRM).
ERP – Enterprise Resource Planning.
Application for Keeping Accounts.
Tools for Managing Projects.
E-Commerce and CMS platforms.
Platforms for communication.
Human Resources Management and HR Technology.
Billing and Payment Processing Services.
Always occupy and pre-plan for unanticipated financial charges.
Analyze their Level of Technical Knowledge

SaaS app development services often require familiarity with a wide variety of new and emerging technologies. Ideally, you hire a development team with a wide range of technical knowledge.

Make sure everyone on your team knows enough to create the software you need.
Evaluate them based on how well they understand the complexity of the Cloud as they relate to SaaS products and cloud software development.
Write down all the different types of SaaS technologies they have created so far.
Find out whether they have created any apps for smartphones or the web.
A deeper understanding of AI, Data Science, ML, etc., is necessary while developing a complex SaaS application.
Influence in the Digital World

The company's online presence has to be prominent. A company's online presence, including its website and social media profiles, may tell you a lot about them. They'll post feedback and deals, and there'll be a collection of photos of the meetings and events they've hosted. The social media profiles of an enterprise software development company should always be up and running.
Workflow

Although building SaaS applications is a real challenge, it has become an essential business requirement. That's why it needs your full attention now more than ever before.
In this case, picking the right team is crucial. One can expect to create high-quality software by dedicating one's full attention to the task at hand. To make the concept of SaaS applications work, many experts work together.
For an official start, it's important to have specialists on hand in various fields, including software engineering, user interface design, project management, infrastructure automation, quality assurance engineering, and more.
Check their Project Management Talents

Evaluate their skills as project managers from beginning to end. If you use SaaS software development services, you must show that you're capable and can handle everything.
Choose the SaaS application development companies that require no long-term commitments as your hope for the future. Contracts with poor development teams are costly. SaaS development outsourcing is a common and sometimes sensible strategy.
If you are considering working with an offshore SaaS application development business, there is one check-in, in particular, you should ensure they perform: a quality control check.
Checkout our Case Study and discover how BoTree Technologies helped the company accelerate its growth with innovative SaaS software development solutions.
Final Words
We've discussed how to choose the best SaaS development company. Choose the top SaaS development service if you want the finest results from your project concept. A skilled SaaS product development company can help you solve issues and break into SaaS.
BoTree Technologies develops secure, scalable, and robust SaaS applications. Discuss your concept with us. Our professionals would happily help your project succeed.
Contact BoTree Technologies for your next project!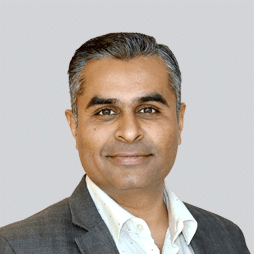 Shardul Bhatt
Shardul strongly believes that the potential to surpass expectations is inherent to each individual. He is committed to helping each and every member at BoTree achieve their dreams and get the most out of their lives. He has a strong technical background and has been in the industry since 2002. He is building BoTree since 2012. He loves to read, exchange ideas and travel.
Choose Your Language
Subscribe to Our Newsletter