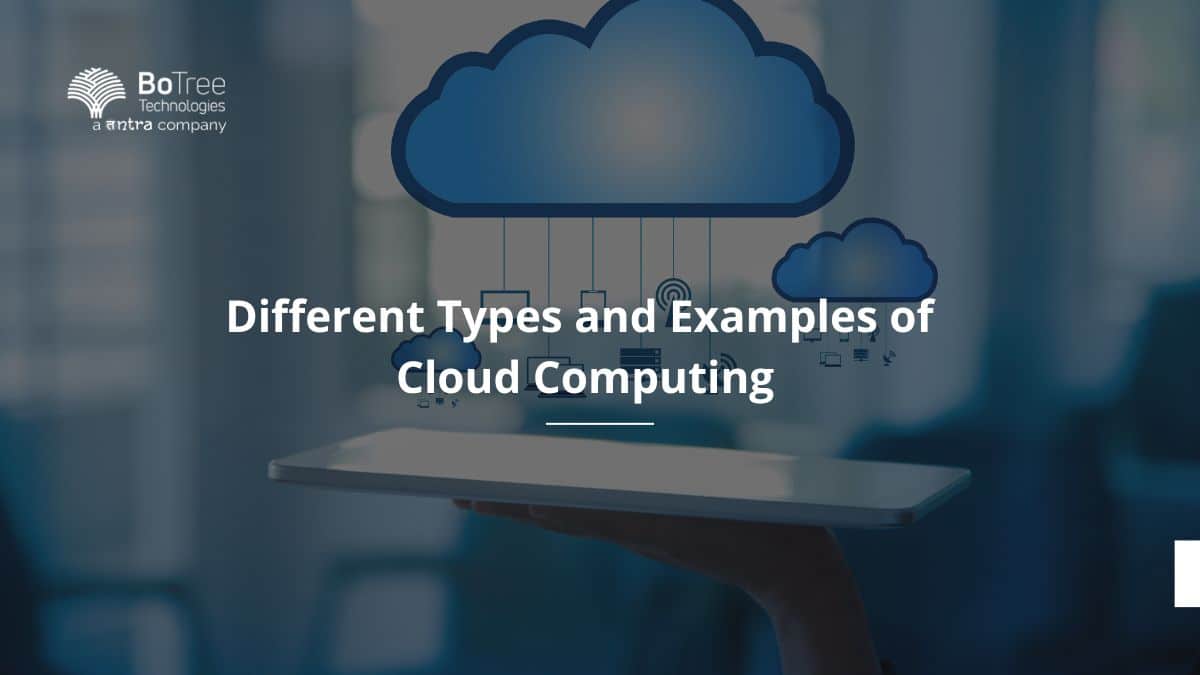 Different Types and Examples of Cloud Computing
Cloud computing refers to a technology that uses the internet to manage and store important information on remote servers, which can then be accessed over the internet. This sort of solution enables users to operate remotely. Cloud computing customers are known not to own any real infrastructure. Instead, they get it from an arbitrator.
The essential properties of cloud computing and cloud services include rapid elasticity, resource pooling, broad network access, and on-demand self-service. Cloud computation is also popular since it is so easy to use. They are a low-cost alternative for businesses provided by a software development company. Some of the features of cloud computing include Virtualization techniques, Dynamic Scalability, On-demand cloud services (satisfying clients), and Optimal Server Utilization. Google cloud is one such example of cloud computing. Here, a set of public cloud services are provided by Google.
With its unique features and properties, the cloud computing career path has become popular today. Hence, in this article, we will take a look at a few examples of cloud computing to help you understand the cloud computing career path better.
Examples of Data Storage & File Sharing Cloud Computing
Data storage and file sharing have a lot of close use, with businesses and individuals sharing huge files using cloud-based applications as well as outsourcing data storage to data centers off-premises.

Pay-as-you-go models help organizations to scale as well as manage data storage and sharing based on current requirements. The best part is that neither of the two has any limit. Some cloud computing services examples dealing with data storage and file sharing include:
Google: With its cloud-based platform known as Google Drive, Google has established itself as a cloud computing powerhouse. The platform connects with other Google applications and Microsoft Office files, making it easier for team members. As projects begin to build up, tools like search chips enable users to rapidly discover certain files. Google Drive even encrypts files and deletes those suspected of having security dangers. This enables organizations and businesses to safeguard their cloud data.
DropBox: DropBox allows users to share huge files leading to the facilitation of collaboration. DropBox lets you have photoshop, a huge PowerPoint, and even lets you sketch projects that need inputs from your team but are too large to fit in an email. Now, DropBox allows the complete integration of collaborative tools such as Vimeo and DocuSign, allowing users to upload videos, contracts, and other materials required for team collaboration.
Box: The box allows anyone to securely access, share, and manage files anywhere. Box can be completely integrated with customer-centric business apps. This platform lets companies share their content (of any size) for collaborative reasons. Box has been used by top universities including UC Berkeley, Yale, Penn State, and Cornell as a platform for collaboration and document safety.
Egnyte: The Egnyte platform enables safe content governance and file sharing. The SaaS company allows teams to interact and work on projects by letting them submit files from anywhere. Teams can use the Egnyte platform to identify external and internal threats, as well as safeguard and retrieve any lost data.
Examples of Big Data Analytics Cloud Computing
Since big data companies need massive quantities of processing power and storage for analysis, most of them turn to an enterprise software development services company for deployment of secure cloud services. Hence, some examples of big data analytics cloud computing include:
Datadog: Data dog enables businesses to go deeper into their technology and products to better understand what can be optimized for better customer experiences and what is helping them grow. For powerful monitoring capabilities, the scalable cloud monitoring platform is suitable with an ecosystem, application, or stack, providing crucial insights starting from network security to real-world user experiences.
Collibra: Collibra is known to help big data firms in managing their cloud-based apps by offering frameworks for dealing with vast volumes of automated processes and data to make sure that quality data is consumed. Collibra was chosen by Proximun, the largest telecommunications firm in Belgium, to help manage and maintain its data governance by using the cloud-based regulatory technology of the business.
Civis Analytics: "Civis Analytics" creates unique consumer analytics software for businesses looking to gain a deeper understanding of the habits of their customers. Using cloud-stored data, the organization delivers predictive modeling, social science, and consumer research. With the Civis Analytics platform, teams can even analyze data in their choice of programming language and create automated data workflows.
SPINS: SPINS uses the cloud to store and collect big data for CPG companies, retailers, and brands in the natural products industry for improved insights into anything from day-to-day store operations to consumer trends SATORI, the business intelligence platform of the company, provides manufacturers and retailers with an in-depth nutrition and allergy information for natural food items through the cloud.
Examples of SaaS (Software-as-a-Service) Cloud Computing
SaaS (Software-as-a-Service) cloud computing allows companies to continue hosting the software since they allow data distribution online as well as browser access from any device. SaaS is known as an alluring and enchanting sector in all technology and business due to its pricing that is purely based on subscription, reduced costs, and ease of use. Given below are examples of four market leaders in SaaS cloud computing:
Salesforce: Salesforce is amongst the popular SaaS cloud computing services providers and CRM tool which helps companies generate leads for sales and manage client connections. To help sales teams in finding potential business leads as well as close deals more quickly, the Sales Cloud integrates customer data and AI. Additionally, the platform offers different clouds for marketing and customer support.
Zoom Video Communications: Zoom refers to a software platform used for audio & video conferencing that works in the cloud. It captures the running sessions and stores them, which allows the users to access & view them irrespective of the location at any given point in time. Individuals or teams can use the Zoom Developer Platform to build connections and applications. For example, the University of Miami, Dropbox, and Ally Financial are just a few of the clients that have benefited from the collaborative technology of Zoom Video Communications.
StreamNative: As Apache Pulsar's successor, StreamNative continues a heritage that has assisted in building Yahoo! Into an efficient and effective machine. More communities are expected to benefit from this cloud's system's fast-paced data access options. Businesses have the ability to pick between a wide range of specialized solutions that take advantage of the cloud's features as well as increase the flexibility and accessibility of data sets.
Slack: Slack refers to a collaboration tool for companies and teams. Slack channels are simply group chats that can be grouped and organized by team, individual, topic, or project to make sure that everyone is on the same page. The cloud SaaS company also offers video conferencing and PDF file sharing, as well as integration with other cloud companies such as Salesforce and DropBox.
Examples of IaaS (Infrastructure-as-a-Service) Cloud Computing
IaaS provides a hypervisor computer infrastructure where the internet controls everything. This cloud computing server is commonly used for a variety of purposes including as a platform for big data analysis, as a web hosting, as well as a testing environment for app development. Due to its contingency planning and effectiveness in providing programs, IaaS has become one of the most famous cloud computing solutions. Some examples of best cloud computing services include:
IBM: Depending on the cloud type, IaaS servers of IBM can be installed quickly either within hours or minutes. The servers of this tech giant can hold data up to three thousand megabytes and can be operated in a couple of hours. The servers are perfect for ascendable projects that require early deployment as well as flexibility.
DigitalOcean: The app platform from DigitalOcean helps product teams in the deployment, management, and scaling of new products. Users can create many virtual computers in seconds using the IaaS platform, and they can even grow based on incoming traffic and data storage. Some examples of clients that have used the platform of DigitalOcean to scale and deploy their products include DSRV, Unicodemy, and Cerebrus.
Finix: Finix refers to a platform that enables marketplaces, independent software vendors, and software companies to simplify the procedure of getting payments in the house by including tokenization or gateway, reporting, merchant onboarding, solutions, chargeback tools, and settlement into a single platform.
VMware: VMware is a cloud computing services company that recently acquired Datrium to enhance its Disaster-Recovery-as-a-Service (DRaaS) products. The acquisitions allow VMware to expand its efforts in developing hybrid clouds that prove secure data storage and more cost-effective onboarding. Recovery services and onboarding are also divided into tiers, allowing clients to choose the plans that best suit their needs.
Examples of PaaS (Platform-as-a-Service) Cloud Computing
PaaS (Platform-as-a-Service) is cloud computing that offers clients database tools, applications management, and hostel development kits. These refer to all the user-defined resources that are needed by companies to launch, deploy, and build their applications. Businesses can avoid long-term expenditures through data storage, secure database, and outsourcing hosting. This in turn also saves companies from spending too much money. There are different types of cloud computing services. Some examples of PaaS cloud computing include:
PagerDuty: PagerDuty helps organizations proactively respond to and resolve events by using machine learning and cloud capabilities. Organizations can collect data, monitor incidents in real -time, and distribute tasks among specialized teams to gain quick solutions. Once the incident is resolved, teams can use analytics to determine how to improve their reactions the next time.
Acquia: Acquia Cloud is optimized for the applications and sites of Drupal 8. PaaS cloud computing is known to be friendly for developers while providing connections, command line tools, and APIs to help streamline the development workflow of the developers. Acquia's products have been used by Energizer, T-Mobile, as well as Johnson & Johnson.
Apexon: Saggezza (bought by the Apexon Infostretch family) offers full-stack solutions to help companies solve their most difficult problems, including IT optimization services, cloud, analytics, UX, and consulting. The company uses the Salesforce ecosystem to manage connections and relationships, and improve business operations. Therefore, this in turn helps to boost the experience for both the employee and the customer.
Amazon Web Services (AWS): AWS (Amazon Web Services) helps developers code for any backend service or application without seeing the need to manage or provision servers. The model, pay-as-you-go, grew with this business to meet actual changes in usage and data storage. Some of the well-known companies that use AWS Lambda include Siemens, the Coca-Cola Company, Liberty Mutual Insurance, and Toyota.
Heroku: Heroku refers to a cloud application platform that allows developers to manage, scale, as well as deploy their applications. In terms of PaaS, the flexibility of Heroku allows developers to operate in languages such as Perl, Python, Java, Ruby, and other popular programming languages. According to reports, providing developers the ability to write code in familiar languages helps in speeding the development of the app.
Conclusion
Cloud computing has been growing in popularity these days due to its various benefits and advantages. One of the elements that allow businesses to deliver cloud services is the opportunity to avoid high-paid software license expenses. Instead, cloud computing is completely web-based. Cloud resources are accessible over the network at any given time.
This is available through a standard mechanism that encourages their usage by various types of platforms including PDAs, laptops, and mobile phones. They even contribute to e-learning by offering a variety of educational services online. Cloud computing services providers enable you to focus on your business rather than your data centers. Hence, following the cloud computing career path will help you be successful in your business.
Frequently Asked Questions (FAQs)
What are three examples of cloud computing services?
There are three main types of cloud computing services. These include IaaS (Infrastructure as a Service), SaaS (Software as a Service), and PaaS (Platform as a Service)
Is Google a good example of cloud computing?
Google Cloud is the powerhouse of cloud computing. As we can see in this article, Google cloud services are long, ever-lasting, and keep growing with time. Google Cloud refers to a suite of cloud computing services that work on similar infrastructure that Google itself uses for its customer products.
How is cloud computing used in daily life?
Knowingly or unknowingly we all use cloud computing in our daily lives. For example, when it comes to eCommerce, media streaming, email, and banking, all these activities are known to use the cloud. Whereas, in terms of business, CRM/sales, storage, infrastructure, and applications all use the cloud.
What are some advantages of cloud computing?
Some of the most basic advantages of cloud computing include-
Low Cost
Availability of Lots of Storage
Flexible
Scalable; since you can pay only for the amount of storage that you require
What are the four types of cloud computing?
There are four major cloud computing services types which include multi-clouds, hybrid clouds, public clouds, and private clouds. You can learn more about the types of cloud computing with examples once you choose a cloud computing career path.
Choose Your Language
Subscribe to Our Newsletter