Cloud Computing: The Booster in your Digital Transformation Journey
Digital transformation is not an opinion, it's a necessity.'

– Eric Shander, Executive VP and CFO, Red Hat
In the age of Information, technology intricately woven in our daily lives. If your organization does not have an online presence, it is considered non-existent or worse not credible. If you are unable to provide good customer experience/personalized customer experience, you may be failing or not making significant progress. Hence, when success is measured by customer experience, digital transformation is necessary.
Today, among many technology trends in digital transformation, the most promising and proven practice with regards to offering customer experience is 'Cloud Computing'. Having witnessed remarkable results, the potential of cloud computing and its role in the digital transformation journey, businesses have started adopting cloud computing to accelerate their digital transformation journey.
So, what is Cloud Computing?
Cloud computing is a practice of storing, managing, maintaining, processing data by utilizing a network of remote servers hosted on the internet instead of using/hosting on a local server or personal computer. The collective data helps in making more informed and accurate decisions that empower you to achieve your primary goals including enhancing customer experience, agility, faster time to market and improved innovation.
Where does Cloud Computing Fit in? And how does it Accelerate Digital Transformation Journey?
Digital transformation means changing business models that help you achieve your business objectives quickly and efficiently. From providing the best customer experience to making informed decisions, digital transformation aims to increase revenue by implementing smart strategies. In this process, cloud computing accelerates the digital transformation journey by enabling operational agility, scalability, flexibility, workforce enablement, data decoding, effective data-driven decisions, security, efficient prototyping, gathering customer insight, and task management.
According to a study, "83% Of Enterprise Workloads will be In the Cloud By 2020." (Source)
Here's How Cloud Computing Boosts Digital Transformation
A cloud-enabled business model eliminates the challenges of the complex IT infrastructure- legacy systems. It helps in solely focusing on the faster digital transformation and make more informed decisions.
Faster prototyping ensures consistent innovation, creation, testing, and implementation. In addition to experimenting on multiple applications on different platforms, a cloud can enable organizations to develop, test and deploy applications without setting complex infrastructure.
Cloud computing fosters collaboration and teamwork. By allowing users to access information from anything ad any place and work on the same, there are fewer barriers and authoritative limitations. Hence, the work can be done more efficiently.
'Keep your customers pleased.' – The mantra to success for any business still remains the same. In the age of information, technology has intricately woven in our daily lives as a result, influences in a major decision. Having identified the same, businesses today have accepted that digital transformation is not only necessary but also inevitable to stay ahead in the competitive business environment.
Read Also: Adopting Cloud Computing can be effective for Startups
'It's no longer the big beating the small, but the fast beating the slow.'

-Eric Pearson
---
At BoTree Technologies, we build enterprise applications with our DevOps team of 30+ engineers.
We also specialize in RPA, AI, Python, Django, JavaScript and ReactJS.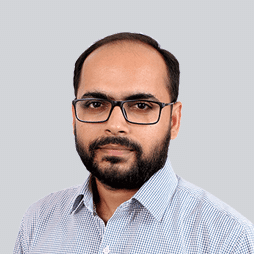 Parth Barot
Parth is the co-founder and CTO at BoTree Technologies. He has worked on building products in different domains and technologies. He is now managing research and pre-sales by supporting it with his problem-solving approach.
Choose Your Language
Subscribe to Our Newsletter