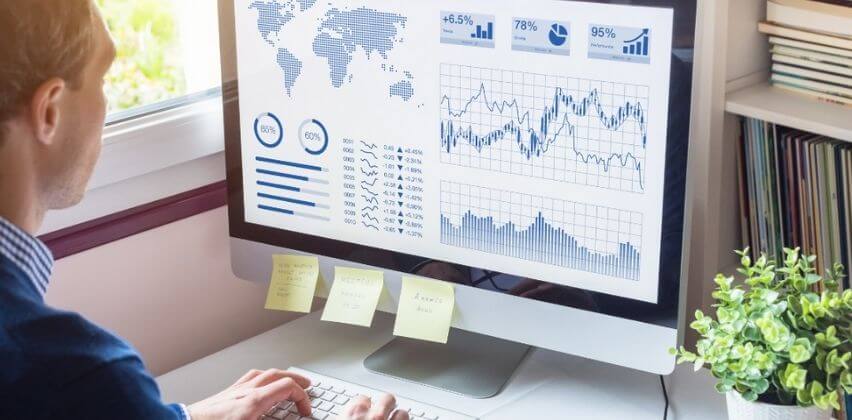 7 Top FinTech App Ideas for Startups in 2022
Whether it's a bank, venture capital fund, or lending institution, FinTech app ideas for startups are found everywhere. Not only that, digital wallets and payment systems are the most significant use case in the FinTech industry.
As of November 2021, there were 10,755 FinTech startups in the Americas, making it the global leader in the FinTech industry. Today, FinTech is one of the most widely growing segments in the world. The rise of convenience is enabling companies to explore FinTech app ideas to better serve their customers.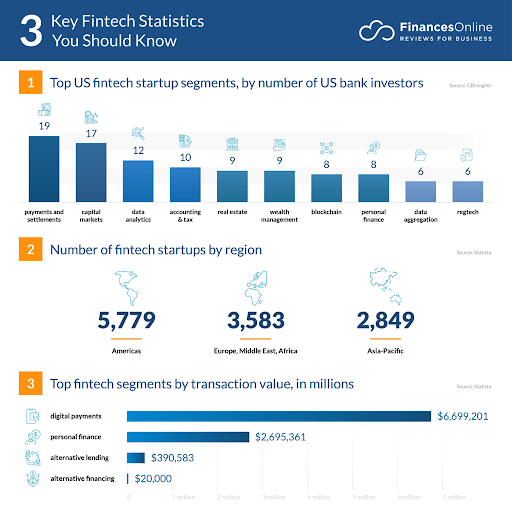 Considering, a plethora of FinTech companies proliferate with unique ideas. Innovations like blockchain have led to the development of cryptocurrency exchanges. There are FinTech app development solutions that simplify the process. Platforms, libraries, and tools that enable swift and easy development of FinTech solutions. There have been new ideas in the FinTech sector related to investment banking, algo trading, and several others.
This article will explore the top 7 FinTech ideas for startups and enterprises in 2022. It will highlight the various fields as well where the FinTech sector is booming.
Top 7 FinTech App Ideas for Startups in 2022
Today, every custom app development services provider is expert in providing FinTech solutions because of their industry expertise and knowledge. Therefore, the number of FinTech application ideas multiply everyday because of the innovations that arise due to such expertise.
Here are the top 7 FinTech app ideas for startups in 2022:
Digital Banking Solutions

Banks are now focusing more on digitization than any other company in the FinTech sector. One of the top FinTech app development ideas, digital banking, enables customers to avail banking services without visiting the branch.
Around 70% of smartphone users now use digital banking. They can apply for loans, credit cards, open fixed deposits & mutual funds, transact freely, send money globally, and get a hundred other services without any hassle.
Mobile banking also allows customers to open bank accounts and get their bank statement without ever stepping foot into the bank. Users can also automate financial transactions, which is one of the biggest benefits of digital banking.


P2P Lending Apps

Today, a FinTech software development company gets more requests to create a P2P lending solution than anything else. This is because P2P lending is a secure, safe, and affordable way to acquire money without any intermediaries.
P2P or peer-to-peer lending is a way to directly transfer money from one person to another. It promotes digital money, and is a great way to become cashless. A lot of cryptocurrency exchanges use P2P for payment and transfers as well.
P2P lending apps simplify acquiring personal loans for a lot of users who can't get it from banks. It is an easy way to bypass the complex loan personal loan procedures.


Cryptocurrency Exchanges

One of the best ideas for a FinTech software development project is a cryptocurrency exchange. Today, the number of crypto traders in the market has increased tenfold. Therefore, the focus towards cryptocurrency exchanges is important.
As Bitcoin and Ethereum take centre stage in the industry, cryptocurrency exchanges proliferate. These exchanges enable users to transact freely, buy and sell cryptocurrencies, make trends, send them via P2P methods, and much more.
Cryptocurrency exchanges are legal in almost every country – therefore, the best custom application development company doesn't have to be scared of the rules and regulations about building such solutions.


Insurance Applications

Hiring an enterprise software development company for Insurance app development is becoming important for insurance providers. Users want details about their insurance policies, renewal options, and much more.
Today, insurance companies are focusing on digital solutions to reach their customers. They can purchase new insurance policies, get details, and provide valuable information during the process of claims filing.
Users can track their claims request, understand the different procedures to apply for claims, look at the various products & services, and connect with the customer service executive as well. The chatbot feature in insurance applications enables users to connect 24×7 with the insurance provider.


Personal Finance Apps

As the world becomes more and more digital, personal finance apps take the reins as well in the FinTech market. Almost every FinTech software development company builds personal financial applications that allow users to better manage their finances.
These personal finance apps have options for expense tracking, income tracking, categorization of expenses, linking with bank accounts, budget creation, and several. A lot of users trust these applications to manage their monthly budget & spending, which is of great help.
Several software development tools are available to build personal finance apps. There are drag-and-drop interfaces as well.


Trading & Investment Apps

More and more people are becoming a part of the trading and investment culture. This is leading to a rise in the demand for applications where users can trade in commodities, shares, futures, options, and more.
Investment applications built by a custom software development service provider enable users to access different investment options. Centralized applications provide the option to look at different investment instruments, rate of return, and other options before deciding the best option.
Stock trading applications are also growing by the day. The younger generation is trading in stocks everyday, which is driving the demand for such FinTech app development ideas.


E-wallets

And finally, the most in-demand FinTech app idea of the decade – the e-wallet. Digital wallets and payment systems are the first thing that every ecommerce store is now integrating in their portal. It simplifies payment for users without them ever having to worry about cash and cards.
E-wallets like Paypal are available online for transferring money directly to the buyer. Amazon Pay is another big wallet that is enabling customers to purchase products without using cash or cards.
The convenience that comes with e-wallet is their biggest driver. Instead of carrying money, people can deposit money in e-wallets and pay anywhere they want.
Read more: The Impact of Machine Learning in the FinTech Industry
Wrapping Up
The FinTech industry is rapidly growing, and there are more than 10,000 startups already working in the field. With the growing demand for FinTech products, this number is sure to rise. The above FinTech app development ideas are some of the top ideas that companies can explore in 2022 and build their applications.
Connect our FinTech experts for high-quality FinTech applications. Get A FREE CONSULTATION.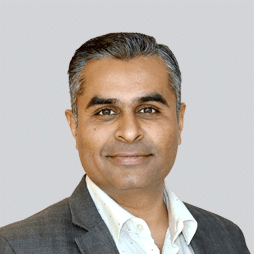 Shardul Bhatt
Shardul strongly believes that the potential to surpass expectations is inherent to each individual. He is committed to helping each and every member at BoTree achieve their dreams and get the most out of their lives. He has a strong technical background and has been in the industry since 2002. He is building BoTree since 2012. He loves to read, exchange ideas and travel.
Choose Your Language
Subscribe to Our Newsletter